Archive for the 'Buds' Category
About Sour Diesel
Sour Diesel is considered a "Top Cash Crop" by experts. This extra-dank weed breed delivers an energetic, psychedelic high. Also known by the name "Sour D," this world-famous strain has a presence that's really strong and reeks of fuel. You're left ready to tackle your accomplishments, instead of feeling "couch lock," allowing you to have a good time filled with good vibrations.
This sativa-dominant cannabis is mixed with 60% sativa and 40% indica. It's fast-acting and delivers cerebral effects that leave you feeling dreamy and energized. As a medical cannabis strain, it offers some very effective medicinal qualities. Consumers use it to help combat and get long-lasting relief from depression, pain, stress and other ailments.
Sour Diesel seeds grow into tall plants with 20% THC and 0.20% CBD contents. These plants grow best in sunny, warm climates. They are prone to powdery mildew, so experts place their growth level at hard. But, with the right growing techniques, these plants can flourish both indoors and outdoors. This feminized strain of cannabis was named after its aroma, which smells of diesel fuel, and tastes of tropical fruitiness.
Click the image to purchase Sour Diesel
Redman - Sour Deezal
Type: Sativa Hybrid

Origin: Cali Connection

Medium: Hydro

Lighting: LED

Nutes: CLASSIFIED

Grower: Northern Lights Cannabis Company

Appearance: Tight, sparkly, very dense buds

Smell: Earthy, almost a chocolaty smell, very inviting, can't really find the "skunk" heritage on the sniff test.

Burn: Clean, thick and flavorful inhale.

Taste: Rich, I can feel it coating my tongue, very nice promising flavor that does not disappoint when it gets to the high.

Exhale: Please remember to do that.

High: YES, there is a serious high that starts before you remember to exhale. Very cerebral, a good "Let's get'er done" high. My mind does tend to wander a little (4 days I've been trying to get this review out)  because I keep thinking of better things to be doing at the moment, or see a funny cat meme and end up watching 30 minutes of Darwin Award videos.

Manicure: Tight, no fluff, no scruff, just the good stuff.

Overall: Solid 9, a performer that does not have me waking up with keyboard imprinted in the side of my face. I'm told that after a few years regular users report some jitters and anxiety from this strain that does not happen with NY Diesel so it should be put in a rotation with other strains if your going to become a constant consumer.

I pressed out some rosin to run through my new DipStick, not a real gusher but a decent press out, a second press would bring a little more, and a 3 ton press would really do the trick. Excellent L Limonene dominant terps coming off the pressed and decarbolated rosin/bud.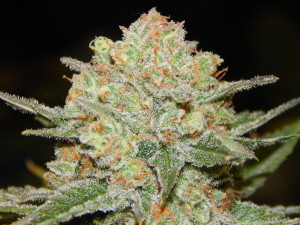 STRAIN: Grape God
TYPE: hybrid
ORIGIN: Grapefruit/God bud
MEDIUM: Soil
LIGHTS: MH/HPS/T-8'S
NUTES: Private reserve, Family recipes
GROWER: GrizzWeed
APPEARANCE: hard, firm and dense
SMELL: Sweet, fruity and yet floral
BURN: Slow and even leaving a light grey to white ash at finish


TASTE: Distinctly sweet and fruity draw almost juicy. A robust flavor
EXHALE: mild light, excellent fruity aftertaste
HIGH: Quick come on with a heady buzz. That allows the user to stay happy and relaxed. Great as a AM or a PM smoke
MANICURE: High and tight but still leaving enough of the sugar leaves to add to the flavor.
OVERALL: An all around great smoke for either getting things done or for just a relaxing evening with friends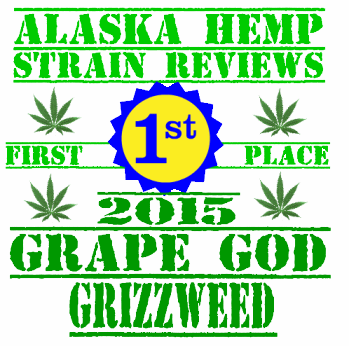 This is one of the top strains to be found in Alaska currently, The potent BC God crossed with the most excellent Grapefruit was a masterstroke and it is delightful to see this out in the hands of great horticulturists like GrizzWeed.
While GrizzWeed is a serious cultivator even in the hands of a novice first time grower I have been amazed at the yield and potency of this one.
http://www.facebook.com/grizzweed/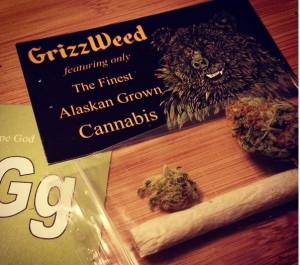 Considering several encounters with this strain over the last year, each being a delightful surprise, and each encounter being with a different grower, I have decided that this is the best overall strain I have seen in 2015.
Strain: Kosher Kush
Type: Indica

Origin: DNA's Reserva Privada seed line, Kosher Kush won the High Times Indica Cup in 2010 and 2011.

Medium: Hydro

Lighting: LED
Nutes: Classified

Grower: NLCC

Appearance: Tight and very sparkly.

Smell: Sharp Pine tones

Burn: Very clean

Taste: Baby, I promise I won't…na, here it comes, you ready? Rich and full flavored, let's you know it is going to be at work for a while.

Exhale: Yea, about that work thing, you should be able to tell by now that this is going to be an A ticket ride.

H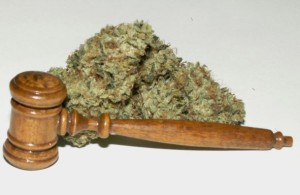 igh: "Hello, I'm Kosher K, I'm just going to move into this corner of your head over here and play with the signal to noise for a while, yea, this wire can go over here, and this one…Oh, your still here? Go get a Pizza or something."

Manicure: Excellent

Overall: I am savoring every puff of this first rate strain. I know it will be gone all to soon and I'll only have memories that I can't remember because this is some really fucking good weed. Very good pain relief, I can still sort of feel it, I just don't feel it as an urgent thing…it's more like I casually remember it is still there waiting for the medicine to wear off. But this has some serious staying power and a night of moderate (OK, my moderate might not match YOUR moderate, 4 joints, thin ones) smoking had me awaken with a very nice afterbuzz and feeling well rested.

This top shelf private reserve quality hydro I'm going to be following eagerly.
Redman - Sour Deezal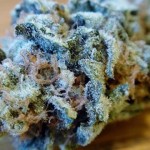 STRAIN: Purple Kush
TYPE: Indica
ORIGIN: Medical Seeds
MEDIUM: Hydro under LED
NUTES: CLASSIFIED
GROWER: NLCC
APPEARANCE: Sparkly and tight, not rocks but certainly not fluffly nugs either.
SMELL: Musty dankness, a good but not bold smell
BURN: Clean
TASTE: As to be expected from a PK, rich and flavorful.
EXHALE: Terpines lingering on the tongue, resiny
HIGH: 4 tokes in and I am suspecting a creeper. 8 Pm and my first toke of the day. Pain subsiding under a slow cresting wave, not a head rusher but a solid body stone and a pleasant head buzz setting in.
MANICURE: Tight , not excessive, just enough guard left to hold trichs.
OVERALL: Quite like the Purple Kush that has been my mainstay for the last decade, solid performer, looking forward to some rosin later tonight, I'll try and remember to post pics. 8.3 Overall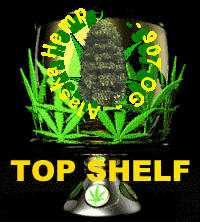 —
Strain Reports on Alaska Hemp (http://alaskahemp.com/420/category/alaska-hemp/strains/)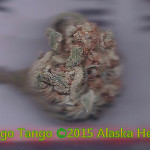 The Mango Kush could be a great bud, I can see the popularity, the sample I got could use a little more time in my opinion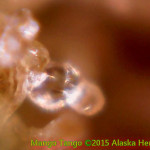 as I'd like to see the trichomes cloudy to amber.
Nice crystals and the bud is tight and has a nice fruity aroma, and hits decent. standing alone it would rate quite well…but…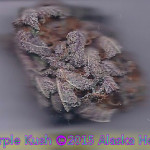 Afghan Purple Kush, the OG of OGs, the granddaddy from the Motherland. Bred in the Hindu Kush and deemed fine enough that God built his Holy Anointing oil around it. The bud is dense. Not overly resinous as it could well be but sticky. pealing open a layer to release fresh aroma is a thrill, it makes you want to press the oil out of it and pour it over your head…go into a small, dark holy of holies and hot box the shit out of it.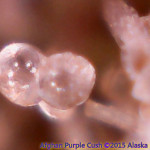 Done right this is one of the finest smoking experiences known to man. This sample was almost done right…again, I think I would have waited a week or so…but it still does the job gangsta' style. I know 4 people growing this strain and two of them are doing it well, this is the best

sample I've seen, dirt grow, full organic, HPS lights and subsonic lullabies.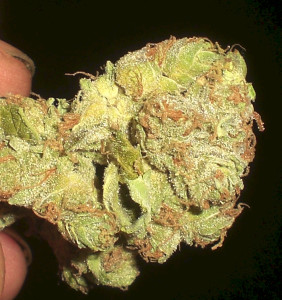 I had some very interesting buddage laid on me the other day, a local Alaskan Blueberry strain that was soil grown and during the final flushing a small bit of organic honey was added to the watering. The effect was a dramatic increase in the crystals, and I'm thinking a corresponding increase in the high. Another interesting thing that I have not noticed before is a Hops like bud structure.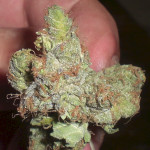 It also seems like the buds bulked quite a bit over the previous grow where the organic honey was not used. I'll be scouring the net to find out what the Hop like structure is all about but if anyone has seen it before I'd love to hear from them.
Blackberry Kush
Lineage: Afghani Mother x DJ Shorts Blue Berry
Pheno type: Short and Stocky – A True Indica
Family: 80% Indica 20% Sativa
Origin: Clone & Seeds
Region: Oregon
Indoor Maturation: 65-75 days
Outdoor Maturation: 60-65
Sex Possibilities: All type
Stature: Bushy with big nug structure
Yield: Medium
Look: Incredible, Dark green, Black, Purple, Yellow
Odor Level: 7 out of 10
(ASA) // The US Court of Appeals in Washington, DC this week ruled against de-classifying cannabis as a dangerous drug, saying "adequate and well-controlled studies" on cannabis as medicine do not exist. An appeal is expected.
(Seattle Post) // "Very satisfying" is the way Washington state Governor Jay Inslee described a conversation Tuesday with US Attorney General Eric Holder concerning that state's need to implement voter approval of recreational cannabis. There was no discussion of how the federal government might react in the future.
(HuffPost) // Here in California, the question remains: can a city pass an outright ban on cannabis dispensaries?  Riverside and Upland think so. So did Los Angeles, for a while. But how can that be legal when state law permits them?  Those are some of the questions to be considered next month by the California Supreme Court. [Holly Kernan and I touched on this topic in our on-air discussion of cannabis news on "Crosscurrents" last week.]
(SFGate) // President Obama's second term started this week, generating reviews of his first term. Confusion on medical marijuana is one of five "broken promises" listed in this summary from his first four years.
I think this needs a clarification, though. The President said the Justice Dept. wouldn't go after "medical marijuana users," but he didn't say it wouldn't go after dispensaries. I know, I know: they're two sides of the same coin. Where do users safely acquire cannabis if the dispensaries are shut down?  It is a puzzlement.
And it's a question that Matt Davies of Stockton had answered the hard way; he faces seven years in prison after his dispensaries were raided. Thisstory, by the Chronicle's conservative columnist, points out that the Justice Dept. has always said that "significant traffickers of illegal drugs, including marijuana" are a priority, even though their activities may be legal under state rules.
(MJBusinessDaily) // That said, the Medical Marijuana Business Daily seespositive news for the industry in 2013, not the least being the list of states considering some sort of cannabis regulation.
Mango is a pure Indica strain with more than thirty years of history to it. It was cross bred in 1991 with other Indica strains. The plant in itself will not grow very tall but the flowering stage is quite long for an Indica plant. Mango will produce a very significant yield but requires a bit more maintenance than other strains. In essence the plant can be very delicate in terms of drastic climate changes and spike in humidity. The biggest problem that Mango growers have with the strain is that it bushes out quite rapidly. You will need to trim it and educate it early on if you don't want to have gargantuan bushes in your outdoor setup.
Most patients agree that this plant helps with; Chronic Pain, Muscle Disorders, Migraines, Insomnia, Lack of Appetite and more with slight side effects of Red Eyed and Dry Mouth. Marijuana Doctors 411 recommends drinking liquids when ingesting this strain.
Patients can expect to feel a deep body sensation that will last for a couple of hours. Mango buds are quite hefty and at times can grow to be 18 inches long, but due to the sturdiness of the strain, you won't have to worry too much about the weight. This plant is definitely for intermediate to professional growers and is not recommended for novice gardeners.
If you would like to find out more information about Cloning techniques, Growing tips, how to cure your marijuana and more, please feel free to check out our Weedpedia section. If you cannot find the information you are looking for you can get in touch with Marijuana Doctors 411's staff and we'll be more than happy to assist you however we can.
OCTOBER 23, 2012 BY ADMIN
The Hash Plant originally came from Holland but made its way to the US in the 80's. The super breed of Indica allowed the plant to have a phenomenal flowering cycle coming in at roughly 40-45 days. Due to the Indica phenotype one can expect a short stocky plant with thick resin rich buds. The Hash Plant doesn't contain the word Hash in it for no reason. Many people use this plant to make some of the finest hash in the world. It also opens up the possibility of making essential hemp oils which is used to cure cancer and other chronic illnesses.
Most of the time this plant is grown indoors, but if you live in an area that is dry and more like the Mediterranean, outdoors will provide you with an exceptional yield.
Patients agree that this strain is exceptionally helpful with the following conditions; Cancer treatment, Insomnia, Muscle Pain, Chronic Pain and lack of appetite. Some of the significant side effects are red eyes and dry mouth of which Marijuana Doctors 411 recommends drinking lots of liquids. Also we recommend that this strain be used at night times as it promotes rest within most patients. It is exceptional in terms of insomnia.
Another thing to comment about Hash Plant is its exceptional ability to be cloned, mark this with a short flowering cycle you can have a consistent flow of cannabis with this plant.