TYPE: Hybrid
ORIGIN: Somewhere out in the Bush along the river.
MEDIUM: Unk
NUTES: UNK
GROWER: Calm 'n Collective
APPEARANCE: Tight, dark green buds with a hint of purple.
SMELL: Earthy, and a little skunky
BURN: Clean
TASTE: earthy and solid, brings back memories of barely remembered parties around Firecracker Lake back in the 70s
EXHALE: A little more earthy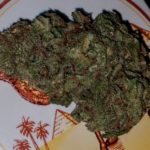 HIGH: A creeper here, comes on with a nice buzz but if you wait a few it settles in like a warm blanket on a cold winters night
MANICURE: Excellent.
OVERALL: A top shelf strain, I truly believe this could be the legendary lost strain of MTF.