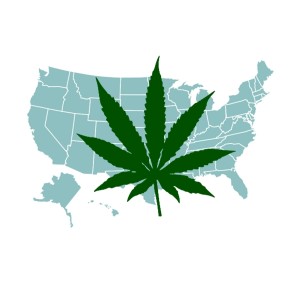 The United States of Amerijuana
2013 has already seen a flood of cannabis-friendly legislation introduced in the legislatures of numerous states. At least seventeen states have introduced pro-marijuana bills or have stated their intent to do so. Legalization, medical marijuana, decriminalization-even industrial hemp- have all been introduced despite the Obama administration's lack of a clear response to 2012's full legalization votes in Washington and Colorado.
Hawaii Speaker of the House Joseph Souki introduced HB 150 on January 17. The Bill allows for individual cultivation and licensing of dispensaries, commercial grows, cannabis manufacturing facilities and testing companies. The Marijuana Policy Project is devoting resources toward passage of this Bill; spokesperson Mason Tvert said HB 150 "will generate significant revenue for Hawaii."A poll, released earlier this January, showed support for a tax and regulate legalization system at 57%. The poll also revealed incredible support for the current medical marijuana law, passed in 2000 (81% support); for dispensaries (78% support); and for decriminalization (58%). The Drug Policy Action Group sponsored the poll, which was revealed in a press conference with the ACLU of Hawaii. An economic impact study conducted by an economist at the University of Hawaii revealed more than $20 million in potential new revenues and cost savings annually; the report noted that since 2004, marijuana possession arrests are up almost 50% and distribution arrests have nearly doubled.