Archive for the 'Medijuana' Category
Jan, 23 2013
Americans for Safe Access will seek En Banc review, continue fight to develop public health policy
Washington, DC — The United States Court of Appeals for the D.C. Circuit issued a ruling today in the medical marijuana reclassification case, Americans for Safe Access v. Drug Enforcement Administration. In a 2-1 decision, the Court granted standing in the case — the right to bring a claim against the federal government — but denied the legal challenge on the merits, agreeing with the government's assertion that "adequate and well-controlled studies" on the medical efficacy of marijuana do not exist.
"To deny that sufficient evidence is lacking on the medical efficacy of marijuana is to ignore a mountain of well-documented studies that conclude otherwise," said Joe Elford, Chief Counsel with Americans for Safe Access (ASA), the country's leading medical marijuana advocacy organization, which appealed the denial of the rescheduling petition in January of last year. "The Court has unfortunately agreed with the Obama Administration's unreasonably raised bar on what qualifies as an 'adequate and well-controlled' study, thereby continuing their game of 'Gotcha.'"
ASA intends to seek En Banc review by the full D.C. Circuit and,necessary, the organization will appeal to the U.S. Supreme Court. ASA intends to argue that the Obama Administration has acted arbitrarily and capriciously by using continually changing standards of "medical efficacy" in order to maintain marijuana as a Schedule I substance, a dangerous drug with no medical value. The government now contends that Stage II and III clinical trials are necessary to show efficacy, while ASA has consistently argued that the more than 200 peer-reviewed studies cited in the legal briefs adequately meet this standard.
In 2002, the Coalition for Rescheduling Cannabis, made up of several individuals and organizations including ASA, filed a petition to reclassify marijuana for medical use. That petition was denied in July 2011, after ASA sued the Obama Administration for unreasonable delaying the answer. The appeal to the D.C. Circuit was the first time in nearly 20 years that a federal court has reviewed the issue of whether adequate scientific evidence exists to reclassify marijuana.
"The Obama Administration's legal efforts will keep marijuana out of reach for millions of qualified patients who would benefit from its use," continued Elford. "It's time for President Obama to change his harmful policy with regard to medical marijuana and treat this as a public health issue, something entirely within the capability and authority of the executive office."
Patient advocates claim that marijuana is treated unlike any other controlled substance and that politics have dominated over medical science on this issue. Advocates point to a research approval process for marijuana, controlled by the National Institute on Drug Abuse (NIDA), which is unique, overly rigorous, and hinders meaningful therapeutic research. ASA argues in its appeal brief that the DEA has no "license to apply different criteria to marijuana than to other drugs, ignore critical scientific data, misrepresent social science research, or rely upon unsubstantiated assumptions, as the DEA has done in this case."
ASA will continue to put pressure on the Obama Administration, but will also be lobbying Members of Congress to reclassify marijuana for medical use. A new comprehensive public health bill on medical marijuana is expected to be introduced soon in Congress, and ASA is holding a national conference in February to support its passage.
According to unconfirmed and anonymous sources Marijuana has been shown to have saved the lives of countless millions of assholes over the last 50 years primarily due to it's calming effect on the average liberal.
Medical cannabis refers to the parts of the herb cannabis used as a physician-recommended form of medicine or herbal therapy, or to synthetic forms of specific cannabinoids such as THC as a physician-recommended form of medicine. The Cannabis plant has a long history of use as medicine, with historical evidence dating back to 2737 BCE. Cannabis is one of the 50 "fundamental" herbs of traditional Chinese medicine, and is prescribed for a broad range of indications.
Clinical applications
A 2002 review of medical literature by Franjo Grotenhermen states that medical cannabis has established effects in the treatment of nausea, vomiting, premenstrual syndrome, unintentional weight loss, insomnia, and lack of appetite. Other "relatively well-confirmed" effects were in the treatment of "spasticity, painful conditions, especially neurogenic pain, movement disorders, asthma, [and] glaucoma".
Preliminary findings indicate that cannabis-based drugs could prove useful in treating adrenal disease, inflammatory bowel disease, migraines, fibromyalgia, and related conditions.
Medical cannabis has also been found to relieve certain symptoms of multiple sclerosis and spinal cord injuries by exhibiting antispasmodic and muscle-relaxant properties as well as stimulating appetite.
Other studies state that cannabis or cannabinoids may be useful in treating alcohol abuse,[15] amyotrophic lateral sclerosis,[16][17] collagen-induced arthritis,[18] asthma,[19] atherosclerosis,[20] bipolar disorder,[21][22] colorectal cancer,[23] HIV-Associated Sensory Neuropathy,[24] depression,[25][26][27][28] dystonia,[29] epilepsy,[30][31][32] digestive diseases,[33] gliomas,[34][35] hepatitis C,[36] Huntington's disease,[37] leukemia,[38] skin tumors,[39] methicillin-resistant Staphylococcus aureus (MRSA),[40] Parkinson's disease,[41] pruritus,[42][43] posttraumatic stress disorder (PTSD),[44] psoriasis,[45] sickle-cell disease,[46] sleep apnea,[47] and anorexia nervosa.[48] Controlled research on treating Tourette syndrome with a synthetic version of THC called (Marinol), showed the patients taking the pill had a beneficial response without serious adverse effects; other studies have shown that cannabis "has no effects on tics and increases the individuals inner tension".Case reports found that cannabis helped reduce tics, but validation of these results requires longer, controlled studies on larger samples.
A study done by Craig Reinarman surveyed people in California who used cannabis found they did so for many reasons. Reported uses were for pain relief, muscle spasms, headaches, anxiety, nausea, vomiting, depression, cramps, panic attacks, diarrhea, and itching. Others used cannabis to improve sleep, relaxation, appetite, concentration or focus, and energy. Some patients used it to prevent medication side effects, anger, involuntary movements, and seizures, while others used it as a substitute for other prescription medications and alcohol.
Read more at en.wikipedia.org/wiki/Medical_marijuana
Ryan Grim – ryan@huffingtonpost.com | HuffPost Reporting

Medical Marijuana Bill Moves Through Maryland Senate In Landslide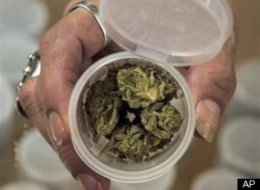 The Maryland Senate voted on Saturday to allow patients access to medical marijuana at state-licensed dispensaries. The bill now moves to the state's lower chamber.
The bill was approved overwhelmingly, with bipartisan support and without objections or discussion, by a 35-12 margin.
Read the full story at http://www.huffingtonpost.com/2010/04/10/medical-marijuana-bill-mo_n_532962.html?ref=fb&src=sp#sb=844450,b=facebook
Number of American deaths per year that result directly or primarily from the following selected causes nationwide, according to World Almanacs, Life Insurance Actuarial (death) Rates, and the last 20 years of U.S. Surgeon Generals' reports.
TOBACCO 340,000 to 450,000
ALCOHOL (Not inc. 50% all hwy deaths and 65% all murders) 150,000+
ASPIRIN (Including deliberate overdose) 180 to 1,000+
CAFFEINE (stress, ulcers, and triggering irregular heartbeats, etc.) 1,000 to 10,000
"LEGAL" DRUG OVERDOSE (eg. Valium/alcohol 14,000 to 27,000
ILLICIT DRUG OVERDOSE from all illegal drugs. 3,800 to 5,200
MARIJUANA 0
(Marijuana users also have the same or lower incidence of murders and highway deaths and accidents than the general non-marijuana using population as a whole. Cancer Study, UCLA; U.S. Funded ($6 million), First & Second Jamaican Studies, 1968 to 1974; Costa Rican Studies, 1980 to 1982; et al. LOWEST TOXICITY 100% of the studies done at dozens of American universities and research facilities show pot toxicity does not exist. Medical history does not record anyone dying from an overdose of marijuana (UCLA, Harvard, Temple, etc.).