Archive for the 'News' Category
Can I sell or buy marijuana legally starting today?
No. Per AS 15.45.220, the act becomes effective 90 days after certification. Until that date, all current statutes and regulations relating to marijuana are in full force and effect.
Is the ABC Board keeping a list of individuals or businesses interested in starting a marijuana business that I can put my name on?
No. The act gives a time period for developing regulations for licensing marijuana growers and sellers. These regulations must be written and codified before individuals or businesses may apply for licenses.
Will individual communities be able to opt out of marijuana manufacture and sales?
Yes. The act provides for local option elections that permit a community in Alaska to opt out of manufacture and sales of marijuana. Communities will continue to be bound by authority regarding individual constitutional privacy rights as set forth by the Supreme Court in Ravin v. Alaska.
What types of licenses will be available?
The types of licenses and process for acquiring them have yet to be determined. The act gives a time period of nine months for the State of Alaska to develop regulations for licensing.
Who is going to write the regulations for marijuana manufacture and sales?
The Alcoholic Beverage Control Board has been tasked with drafting the regulations relating to the manufacture and sale of marijuana products. The initiative also allows the Legislature to create a separate Marijuana Control Board if they desire which could assume the responsibility for crafting the regulations governing the marijuana industry.
Who will administer the licenses and enforce regulatory restrictions on the licenses?
The act provides that the ABC Board will be responsible for regulating marijuana like alcohol unless the legislature creates a separate Marijuana Control Board.
http://commerce.state.ak.us/dnn/abc/resources/MarijuanaInitiativeFAQs.aspx#
If America's first marijuana legalization experiment is any indication, the end of prohibition can start smoothly. Since retail sales of recreational marijuana began in Colorado, revenues from marijuana sales have continued trending up. At the same time, crime in Denver, home of most recreational marijuana shops in the state, has dropped nearly across the board. Colorado and Denver's experiment with legalization is, in other words, going well. The state is seeing its coffers filled with some extra revenue, as expected. And crime, despite warnings from law enforcement officials, isn't rising.
Read More: http://www.vox.com/2014/5/13/5711370/since-denver-legalized-pot-sales-revenue-is-up-and-crime-is-down
The news: Colorado's pot sales are booming.
The state's Department of Revenue reports that marijuana retailers sold nearly $19 million in recreational weed in March, up from $14 million in February. The first three months of legal weed have netted about $7.3 million in taxes, not including medical marijuana sales taxes and licenses, which bring the number to $12.6 million. In it's first few months, Colorado could already soon be outpacing those historic first-day sales on a daily basis.
Read more: http://www.policymic.com/articles/89165/3-months-since-legalizing-marijuana-here-s-what-colorado-looks-like
Dear Alaskan Doctors,
If you are willing to prescribe medical cannabis I will advertise your services free. I will not exact any commission for referrals or charge for accessing the list of Cannabis friendly doctors or clinics.
Please send an email to stoney@alaskahemp.com with your name, address, basic rate and preferred contact method.
Alaskan Doctors willing to prescribe marijuana
according to the laws of the state of Alaska.
Anchorage:
AC Medical – Great guys, I have met with them and they are dedicated to providing service with a (illegal) smile.
(THC Medical Clinic has a psychopath running the place, we cannot recommend the THC Medical Clinic to anyone)
Fairbanks: None
Juneau: None
Kenai: None
Nome: None
Wasilla:

Ty R. Vincent, MD
I have had an intense interest in complementary and alternative medicine since before attending medical school, reading two of Andrew Weil's books in 1997.  I have continued to ask difficult questions about health and wellness and pursue the answers in many directions, with ongoing education efforts.
Our office is in the Hull Building, one block West of the intersection of Bogard and Main Street in downtown Wasilla.
Mat-Su Integrative Medicine, LLC
Address: 545 N. Knik St., Unit B

Wasilla, Alaska 99654

Phone: 907-357-2322
Send any recommendations to: stoney@alaskahemp.com
Alaska Hemp has made the AlaskaDispatch with a great article by Laurel Andrews.
"I just think marijuana's going to revolutionize things in Alaska as much as oil ever did. The prospect for jobs and new business start-ups is phenomenal. All Alaskans should be excited about it," said Bill Fikes, a disabled veteran and owner of the website Alaska Hemp who is looking to start a cannabis grow operation should the initiative succeed.
With some "creative financing" — money from investors with relatively deep pockets — Fikes said he is already in negotiations with business partners about starting up a major grow operation and dispensary. He said they have a property owner lined up who is interested in housing the necessary infrastructure, and several growers who have specific strains they'd like to grow. He wants to start a dispensary in Wasilla, and maybe Anchorage too.
Fikes is starting to do this work now, way in front of the vote on the ballot measure, to "try and at least get a little head start on the carpetbaggers," he said, referring to people and businesses he believes will come to Alaska to cash in on the new market. Big business that has already made millions in Colorado and Washington will not be far behind once the initiative passes, Fikes said. "I think they're going to see Alaska as a major expansion marketplace."
Read the entire article at: http://www.alaskadispatch.com/article/20140304/alaska-entrepreneurs-look-ahead-marijuana-legalization-vote
You know how it is, you just fired up the Vape with some killer Kush and suddenly it dawns on your now well sedated brain that your clean out of munchables! Well, now there is some relief for those in the valley area, these good folks will shop while you veg and deliver the goods right to your door!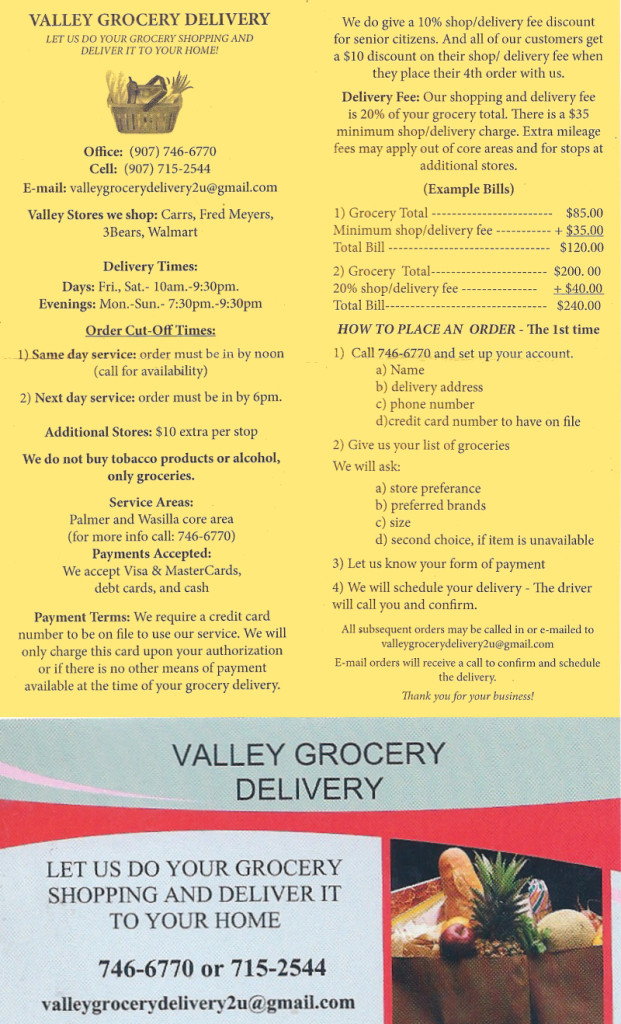 WASHINGTON — The Obama administration Friday gave banks a road map for conducting transactions with legal marijuana sellers, so these new businesses can stash away savings, make payroll and pay taxes like any other enterprise. It's not clear banks will get on board.
Guidance issued by the Justice and Treasury departments is the latest step by the federal government toward enabling a legalized marijuana industry to operate in states that approve it. The intent is to make banks feel more comfortable working with marijuana businesses that are licensed and regulated.
Others have a keen interest, too, in a regulated financial pipeline for an industry that is just emerging from the underground. Marijuana businesses that can't use banks may have too much cash they can't safely put away, leaving them vulnerable to criminals. And governments that allow marijuana sales want a channel to receive taxes.
But a leading financial services trade group immediately expressed misgivings and others, too, said the guidelines don't go far enough in protecting banks.
"After a series of red lights, we expected this guidance to be a yellow one," said Don Childears, president and CEO of the Colorado Bankers Association. "This isn't close to that. At best, this amounts to 'serve these customers at your own risk' and it emphasizes all of the risks. This light is red."
Washington and Colorado in 2012 became the first states to approve recreational use of marijuana. A group is hoping to make Alaska the third state in the nation to do so.
Source http://www.dnj.com/viewart/20140216/NEWS/302160023/Feds-Banks-marijuana-sellers-can-do-business