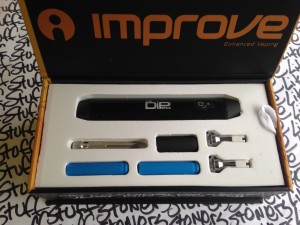 I was presented with a DipStick today by my friend Zeke Hilsinger (he has the entire NW Exclusive on the DipStick!) and this is my review and a few links to video reviews by others and where you can get a free ticket to the Anchorage DipStick rollout party!
I love Dabs, Rosin, Crumble…concentrates are awesome for a lot of reasons, purity, ease, compact, easy to dial in a high, great for precise dosing at optimal temps etc, etc.
So on to the DipStick. Very nice maglatch box that can be reused as a stash box. (who doesn't like cool boxes?). Inside you will find the main pen, two ceramic tips, two batteries with charger, two dab jars, spare tube seals a lanyard and instructions.
The DipStick is a quality tool made in the USA. I usually try not to say good things about anything coming out of Texas except Willie Nelson but this is one of those rare exceptions. A "Sleek Design : A solid aluminum body" with a nice ergonomic feel, a magnetic cap, rebuildable coil and easy to clean parts.
One of the most excellent features is an overflow reclaim chamber on the tip. In there you will find dab that might have run down the coil before vaporizing so it's not the toxic sludge you might find in other vape pen catch basins.
With a suggested retail of $199 you would expect this to be a high quality instrument and that is exactly what it seems to be. I suspect you might be able to talk Zeke into a roll out discount if you can make it to the Party. There will be "FREE DABS and Medicated Sweets" and hopefully I'll be there providing product demonstrations.
You can hook up with FREE TICKETS by rushing over to TicketLeap. This will be held at a private home so space will be limited!
http://nwddp.ticketleap.com/nwddp-alaska-dipstick-release-…/
I'm gonna go check my oil now…l8rs.
Oh yea…Being the ever curious sort and wondering about the true versatility of this pen I loaded a chunk of crumble into the coil and replaced the cap then turned it on and hit the heat. A great toke without removing the cap, how freaking easy is that? Oh yea, it turns itself off if you leave it laying around and forget about it while your looking for the dab container lid you dropped under the desk or drop it back in your pocket after a quick hit at the concert or DMV. (Uh, yea…Alaska Hemp does not recommend or advise vaping at the DMV or any other public space, keep it legal Eagles.