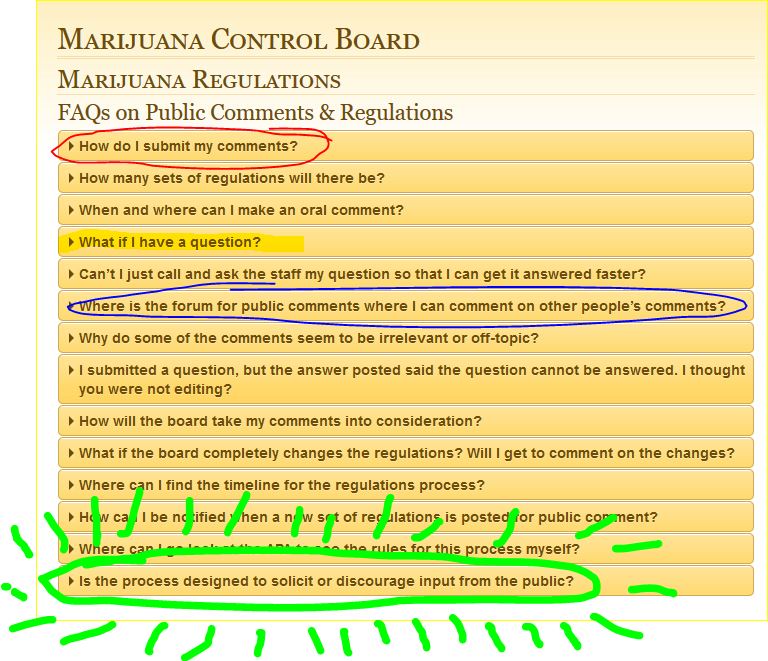 Commenting on Proposed Government Regulations
Regulations affect nearly everyone. This guide is designed to outline the process and ensure YOUR voice is heard when new regulations are being written.
(I tell you where and how at the end of the article if you just want to get there without reading all this stuff)
https://dec.alaska.gov/commish/regulations/how_to_comment.htm
Marijuana Control Board
Function: The board shall control the cultivation, manufacture, and sale of marijuana in the state. The board is vested with the powers and duties necessary to enforce this chapter.
https://www.commerce.alaska.gov/web/Portals/9/pub/DraftSet3Final.pdf
Draft Regulations
Set #3
https://www.commerce.alaska.gov/web/abc/MarijuanaRegulations.aspx
COMMENTING
When submitting public comment for Draft Set 3, please include the phrase "Comments on Draft Set 3" in the subject line of your e-mail or letter.
Comments on each set of proposed regulations may be submitted during the date range assigned to that set by submitting the comment in writing to John Calder at john.calder@alaska.gov.
Written comments may also be mailed to:
John Calder
550 W. 7th Avenue, Suite 1600
Anchorage, AK 99517
or dropped off in person at the same address during business hours.