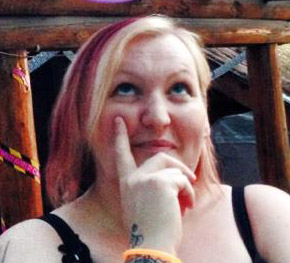 I decided it was time to sit down with with Heather Arkell of Twisted Tundra in Anchorage and talk to her about the products I have been seeing and hearing about for most the last year. So we sat down at our respective computers and had a little chat.
Stoney: Welcome Heather, Could you tell me a little background about Twisted Tundra?
Heather: I created My salve for myself originally, I was a crazy kid always doing crazy things and now have arthritis because of it. I wanted a product that wouldn't effect my daily routing like smoking the actual cannabis flower does and also I wanted something that didn't smell like weed because of my work and the stigma associated with it.
I started exploring cannabis as a salve 5 years ago after taking courses in essential oils while becoming a massage therapist.
Through trial and error I have created a product that not only works but smells amazing (in my opinion).
Stoney: So there is some actual educated thought going into the combinations of ingredients?
Heather: Yes there is some education behind the ingredients and it's not just essential oils I use, most ingredients are whole plants and each ingredient is chosen because of specific properties that target pain and Inflammation as well as a whole host of other properties. Plants are amazing and are used to treat almost anything and everything.
Stoney: What are your massage clients reactions to your products?
Heather: I do not use it on most of my clients because I work for a company but my outside massage clients as well as people in general who have tried it love it and have raved about its uses from treating boils and cysts to reducing swelling, pain and scars after surgery as well as for treating some arthritis which was my main goal!
Stoney: What sort of products have you formulated so far?
Heather: For the last five years I have made pain salves, lip balm, massage oil, bath dust which is like a bath bomb but not formed into the typical bath bomb form.
Stoney: You say you don't use it in your normal work, is there a THC content in the cannabis oils used that might cause a user to test positive in a UA?
Heather: It is a cannabis product and I use higher THC strains so there is always a chance you can test positive but more and more studies are showing salves and creams do not pose that risk because they do not enter the blood stream. There is a few exceptions that would be if you used it on a open wound or if you use a product that contains alcohol because the alcohol will help the product penetrate which then passes the skin barrier and has a bigger chance of reaching the blood.
Stoney: Do you have a storefront where people can find you or is there a place that carries your lotions and potions?
Heather: At this time it cannot be sold to the public at least not until middle to late 2016 when cannabis can be produced sold and marketed for public here in Alaska. I do plan on having my products carried in any and all dispensaries throughout Alaska when such a time becomes available. Right now I give away samples to as many people as I can to get my name out there I want to be in as many homes as I can before 2016 ends.
Stoney: Can you tell us some of the places we might be able to find samples currently?
Heather: Currently I have given samples to Rachel Lake who runs CannaCare she make up goodie bags once a month to give veterans who need and want a more Natural form of medication. Through word of Mouth and posts on Facebook and even posts people have done on Instagram about my products I get more and more messages from people wanting to try it. Mainly I just carry samples around and meet up with people who want to try it. Visually I give them enough to pass on as well.
Stoney: If people bring you their own cannabis can you custom formulate products for them? It would seem to me that you could sell your services in that manner as you are just giving them back their own cannabis and your charging for your expertise and materials.
Heather: I have not custom formulated products but that's definitely an option. Right now with the legalities of cannabis in Alaska that's not an option
Stoney: Do you have your own website or Facebook page where people can learn more about Twisted Tundra products?
Heather: At this time I can be reached through FaceBook at Twisted Tundra and any and all questions as well as feedback are welcome.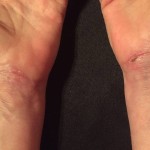 This is a before and after from Rose. She had bilateral carpal tunnel surgery done the same day a week after the bandages came off she used my product on her left wrist only. you can plainly see the difference in not only healing but Inflammation.
Click to zoom
Testimonials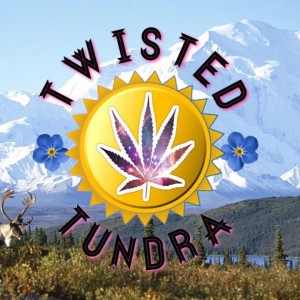 Rachel Lake
"I used it a day my arthritis made it hard to walk, knee was literally 2 inches swollen, I keep going cause I have to, I applied a lot that night and the next day I had less swelling, tons of relief and I could walk, as to the day prior I hurt so bad I couldn't remember going to store. No joke, bad arthritis and fluids swell up sometimes, even my husband who never ever partakes in any canna form, finally did his back (military 40% disabled) with her salve and next day he swore he felt better."
Sara Williams
"I love Twisted Tundras products! The salve is so easy to apply and just the right texture that it absorbs so easy! I use it on my pain areas. For my pain it is fast acting and melts the pain away without any head high! I love the stuff!"
Tina Smith
"Twisted Tundra has created a salve that has multiple uses that I have experienced personally. Used on skin conditions like eczema it helps control the symptoms. While used on muscle pain or back pain it provided almost instant effects, with a smell that is really pleasant and soothing, it's my "go to" after workout rub also"
Kayla Cornejo
"I was first introduced to Heather's products through Midnight Greenery's product testing event. I was gifted many topical goodies, such as healing salve, bath soap, and lip balm. I can say from the very first time I tried the healing salve, I was sold. I recently had a total hip replacement, and just moments after applying it the salve began to alleviate my pain. The other night, I was in severe pain and desperate for relief. My dear friend was able to gift me some more healing balm. Because of this product, I was able to sleep through the night without pain. I would recommend this product to anyone who has any type of pain."
Alex A…
"Your salve is amazing! Rubbed some on my lower back where I regularly have pain and it helped greatly! Also works awesome for dry skin!!"
Brook S…
 "A friend of mine let me try a bit of her sample, I have cystic Rheumatoid Arthritis and Hidradenitis Suppurativa. I get super bad itchy spots where the fluid leaks. I put some on and its not gone but it was major relief. and even lowered the swelling. I felt relief faster than the allergy pills that take 30 minutes to kick in. I know from research it was all stuff I wanted in a salve. I would really like to get some for myself."
Dani Littleton
"I've used it for both my migraines and ankle and it has helped tremendously, better then my pharmaceuticals!"
Bill Fikes:
"I met heather at Northern Heights and got to sample some of her products during an AVCRO Veterans event. I was very impressed with both the packaging and the quality of the products. I was given a container of salve yesterday and used it on my knee and elbow and the pain relief was immediate and impressive."