Archive for the 'Marijuana' Category
US Government hypocrisy knows no limit: "Under U.S. federal law, marijuana is defined as having no medical use. So it might come as a surprise to hear that the government owns one of the only patents on marijuana as a medicine. The patent (US6630507) is titled "Cannabinoids as antioxidants and neuroprotectants" and was awarded to the Department of Health and Human Services (HHS) in October 2003." Get it? How many critically ill patients have been forced to suffer while a completely natural therapeutic alternative has been withheld from them? How many billions of dollars have gone to Big Pharma for synthetic drugs that have horrible side effects while an herb that can grow in your garden has been prohibited? How many lives — predominantly minorities — have been ruined by the senseless prosecution of cannabis possession as a Schedule I drug? How many billions of dollars has the government wasted losng the "war on drugs" while prohibition has empowered violent criminal organizations? Legalizing cannabis is essential for human rights, civil rights and common decency. The issue is clear. The time is now.
http://www.leafscience.com/2014/07/25/u-s-government-patent-marijuana/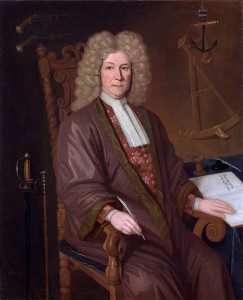 Robert Knox was an English sea captain in the service of the British East India Company. He was born to another sea captain, also called Robert Knox, on  the 8th of February in 1641 and he died on the 19th of June in 1720.
He joined his father's crew on the ship Anne for his first voyage to India in 1655, at the age of 14, before returning to England in 1657. That year, Oliver Cromwell issued a charter granting the East India Company a monopoly of the Eastern trade, requiring the elder Knox and his crew to join the service of the Company.
The two Knoxes sailed for Persia in January 1658. They suffered the loss of the ship's mast in a storm on 19 November 1659, forcing them to put ashore on Ceylon, now Sri Lanka. The ship was impounded and sixteen of the crew, including the Knoxes, were taken captive by the troops of the Kandyan king, Rajasinghe II, or Kirti Sri Rajasinha, King of Kandy. Rajasinha means the King of Lions (or the Lion King). 
There can be little doubt that Mr Knox came to know the potent strain of Hemp grown in Ceylon during his time there.
. Robert Knox Jr. eventually escaped with one companion, Stephen Rutland, after nineteen years of captivity. The two men were able to reach Arippu, a Dutch fort on the north-west coast of the island. The Dutch treated Knox generously and transported him to Batavia (now Jakarta) in the Dutch East Indies, from where he was able to return home on an English vessel, the Caesar. He arrived back in London in September 1680.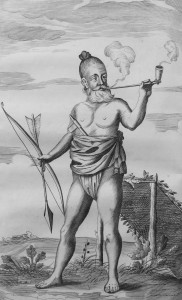 During the voyage Knox wrote the manuscript of An Historical Relation of the Island Ceylon, an account of his experiences on Ceylon, which was published in 1681. The book was accompanied by engravings showing the inhabitants, their customs and agricultural techniques. It attracted widespread interest at the time and made Knox internationally famous, influencing Daniel Defoe's Robinson Crusoe as well as sparking a friendship with Robert Hooke of the Royal Society. It is one of the earliest and most detailed European accounts of life on Ceylon and is today seen as an invaluable record of the island in the 17th century.
Knox became a close friend and collaborator of Robert Hooke, for whom he frequently brought back gifts from his travels. In return, Hooke took Knox to the local coffeehouses for chocolate and tobacco, then considered luxuries. On one occasion, Knox presented Hooke with samples of "a strange intoxicating herb like hemp" which he dubbed "Indian hemp" or "Bangue"; it is better known today as cannabis indica, a plant which was unknown at the time in Europe. Hooke gave an address to the Society in December 1689 in which he provided what was the first detailed description of cannabis in English, commending its possible curative properties and noting that Knox "has so often experimented it himself, that there is no Cause of Fear, tho' possibly there may be of Laughter."
Robert Hooke had more than a few small successes in his life. Inventing the watch spring and escape mechanism, Hooke discovered the law of elasticity which bears his name, Hooke argued for an attracting principle of gravitation in Micrographia of 1665. Hooke's 1666 Royal Society lecture "On gravity" added two further principles – that all bodies move in straight lines till deflected by some force and that the attractive force is stronger for closer bodies. Hooke coined the term cell for describing biological organisms, Hooke in a 1682 lecture to the Royal Society proposed mechanistic model of human memory which would bear little resemblance to the mainly philosophical models before it.This model would address the components of encoding, memory capacity, repetition, retrieval, and forgetting—some with surprising modern accuracy. This work, overlooked for nearly 200 years would share a variety of similarities with Richard Semon's work of 1919/1923, both assuming memories were physical and located in the brain.
If America's first marijuana legalization experiment is any indication, the end of prohibition can start smoothly. Since retail sales of recreational marijuana began in Colorado, revenues from marijuana sales have continued trending up. At the same time, crime in Denver, home of most recreational marijuana shops in the state, has dropped nearly across the board. Colorado and Denver's experiment with legalization is, in other words, going well. The state is seeing its coffers filled with some extra revenue, as expected. And crime, despite warnings from law enforcement officials, isn't rising.
Read More: http://www.vox.com/2014/5/13/5711370/since-denver-legalized-pot-sales-revenue-is-up-and-crime-is-down
Butane Honey Oil, or BHO, is the essential oil from the cannabis plant, extracted using n-Butane as a solvent.  If it is extracted from fresh material, it is a Concrete, and if from cured material, it is an Oleoresin.  A concrete or an oleoresin that has been winterized to remove the waxes, lipids, and fats, is known as an Absolute. On the street it's commonly called Wax or DAB.
Butane Honey Oil extraction refers to the method used to extract the essential oils from cannabis, and there are multiple theories on the best way to accomplish this, as well as what material is best to use.
Read the entire article at: http://skunkpharmresearch.com/bho-extraction/
Although cannabis law reform continues to take place across the country, residents of two states in the U.S. have the opportunity this year to drastically change the landscape in the movement to legalize recreational and medicinal cannabis; Alaska and Florida.
In Alaska, voters will have the opportunity this August to legalize cannabis, through a constitutional amendment, for all adults 21 and older. Similar to Colorado's Amendment 64, the initiative voters will be considering would legalize cannabis possession, private cultivation and state-licensed sales. If approved, Alaska would become the third state in the U.S. to legalize recreational cannabis; it would be a clear, undeniable sign that cannabis legalization is a certain inevitability, and that recent victories have sped up the process.
In Florida, voters will be given the chance to legalize cannabis for medical purposes this November. Although over 20 states have legalized some form of medical cannabis, Florida would be the first state in the south to do so, and one of the last states many expected would make the move. Despite their often conservative values, recent polling has found upward of 80% in the state to be in support of legalizing medical cannabis, a strong sign that the state will do so through a voter-approved initiative this November.
If both of these states are successful in accomplishing their goal, the momentum gained by the victories in Colorado and Washington would explode to new heights, and new levels of mainsteam awareness.
It's absolutely vital that those who support reforming our failed cannabis laws support these efforts; if you're in either of these states, get involved with the campaigns (for Florida click here, for Alaska click here), spread awareness and do what you can to help get these proposals approved. If you're outside of the state, considering donating to the campaigns behind the initiatives; as we all know, for better or worse, money plays a huge role in politics, and everything you can give helps in a big way.
We'll keep you updated as these, and other proposals, move forward.
Source http://thejointblog.com/eyes-florida-alaska/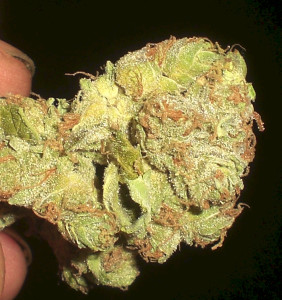 I had some very interesting buddage laid on me the other day, a local Alaskan Blueberry strain that was soil grown and during the final flushing a small bit of organic honey was added to the watering. The effect was a dramatic increase in the crystals, and I'm thinking a corresponding increase in the high. Another interesting thing that I have not noticed before is a Hops like bud structure.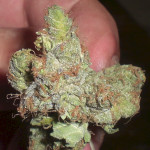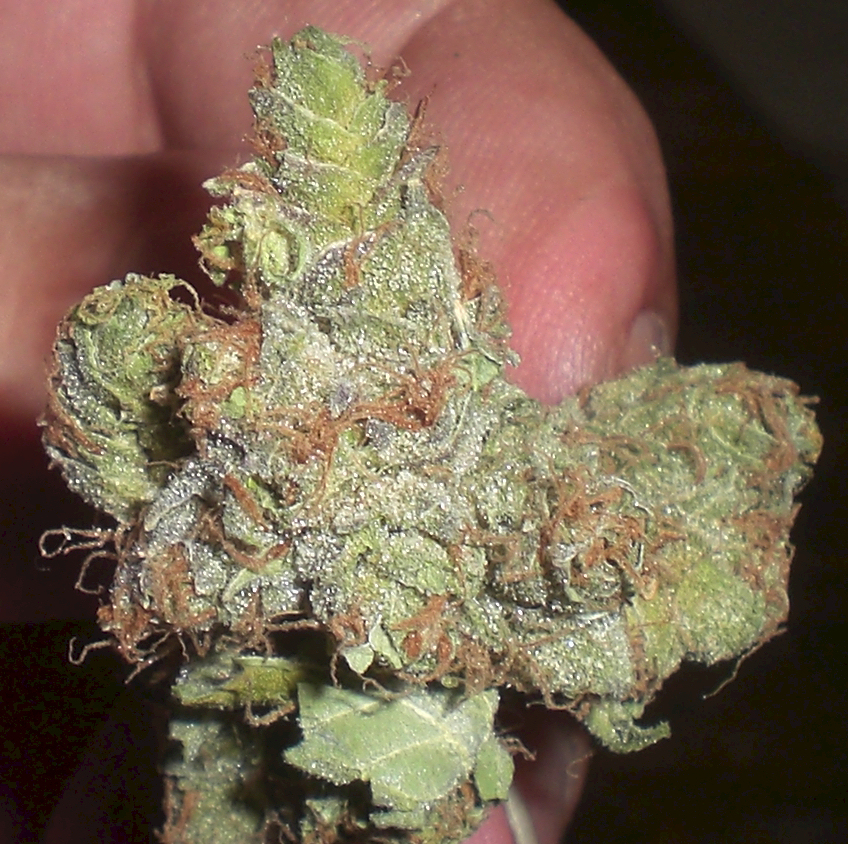 It also seems like the buds bulked quite a bit over the previous grow where the organic honey was not used. I'll be scouring the net to find out what the Hop like structure is all about but if anyone has seen it before I'd love to hear from them.
Blackberry Kush
Lineage: Afghani Mother x DJ Shorts Blue Berry
Pheno type: Short and Stocky – A True Indica
Family: 80% Indica 20% Sativa
Origin: Clone & Seeds
Region: Oregon
Indoor Maturation: 65-75 days
Outdoor Maturation: 60-65
Sex Possibilities: All type
Stature: Bushy with big nug structure
Yield: Medium
Look: Incredible, Dark green, Black, Purple, Yellow
Odor Level: 7 out of 10
The benefits of medical marijuana oil are being debated by some and embraced by others. Whether you're a curious skeptic or a true believer, you can follow the steps below to make your own medical marijuana oil.