What can you say about Northern Lights #5 that has not already been said since it first arrived around 40 years ago? It entered into the Cannabis Cup competition in 1989 and dominated the event, winning in '89, '90, and '92. This legendary strain has been a favored cross for many of the greats that followed it. The legends of its genesis include "The Indian" from one of the many islands west of Seattle who grew 11 plants, which he named Northern Lights #1-11 with #1 and #5 being the picks of the litter. #5 was discovered some years later by Neville Schoenmaker, a famous cannabis breeder from Australia, somewhere in the early 1980s. Neville took female clones of all the plants back with him to The Netherlands and started crossbreeding it for the Seed Bank. As with most legendary strains you can find any number of seed sellers claiming to have various offshoots of the original.
Dank Research has been exploring many of the legends including Puna Buddaz, Durban, Chocolate Thai, and this round dropped some NL#5.
"I grow in living soil with occasional teas, under LED lights. The seeds were sent to me from
Greg McAllister
,
#oldemarine
, who along with the Seattle NL crew created the strain in the early 80s. These seeds are from BEFORE they were sent to Holland."
The buds are tight and the taste is rich and pleasing. Pinene is certainly up front, fruity (terpinolene), floral, slight earthy undertones (Myrcene). Peppery aftertaste. There is no hint of the diesel flavor of Limonine. This could easily be a daily dose just based on the satisfying flavor profile. But as with any quality smoke the real measure is where it takes your head. This NL#5 takes me right where I want to be, though I might forget where that was or how I got there. A nice, long lasting stone that seems to build like a slow motion avalanche and had me hold a lighter in each hand trying to remember if I was going to light the bowl or the joint.
Northern Lights

Grower: Art Tic Jester
Strain: Green Hammer
Type: Indica Dominant
Origin: Alaska Sacred Fire Genetics
Growing Medium: Pro mix hp 
Lighting: 1000w hps
Nutrients: Advanced nutrients A n B

Appearance: Light green, red head with lots of glitter.
Smell: Interesting, is that a Mango? Sweet and fruity like a bag of gumdrops.
Burn: Clean, tight bud holds good flavor many hits into the bowl.
Taste: OK, this got my attention. what was hinted at in the smell delivered big time on the inhale. This is a fine desert to be served by candle light, and indulgent treat that you hide in the back of the desk drawer. At this point getting high will just be a bonus, it has won me over with the taste!
 Exhale: Do I have to?

High: I've hit the 9# Hammer, and it hit back hard, I suspect those genetics are given away in the name. Seems to have a energetic head with a powerful urge to not get up and move. And as that seems to close to my natural state anyway I'm happy to be along for the ride. Don't be surprised when you can't find your lighter.
Manicure: I'm going to take .5 points off here, just because I gushed all over the taste, there was almost 1/6th inch of stem.
Overall: This is one of my favorite strains this year, and I'm passing it ahead of some really excellent bud I've already tried, I hope to see a lot more of this popping up!

All Reviews ©2015-2018 Alaska Hemp™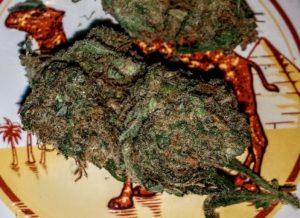 TYPE: Hybred
ORIGIN: Pacific NW Roots (Original Strawberry Diesel x Alien Kush F2)
MEDIUM: Promix
NUTES: UNK
GROWER: Calm 'n Collective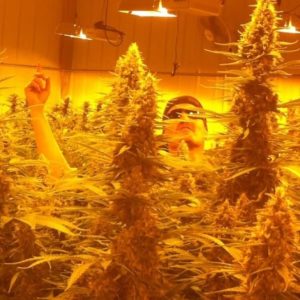 APPEARANCE: Tight, dark green buds with a hint of purple.
SMELL: Fruity, citrus, just a hint of the diesel parentage.
BURN: Clean
TASTE: earthy and solid, some nice fruit undertones.
EXHALE: A little more pronounced fruity, sweet.
HIGH: Right to the head, no creeper here, comes in like Ron Bass himself, large and in charge.
MANICURE: Excellent.
OVERALL:A top shelf strain, excellent savoring flavor and rapid onset high. Slight drymouth but no real dry eyes like I get from many strains.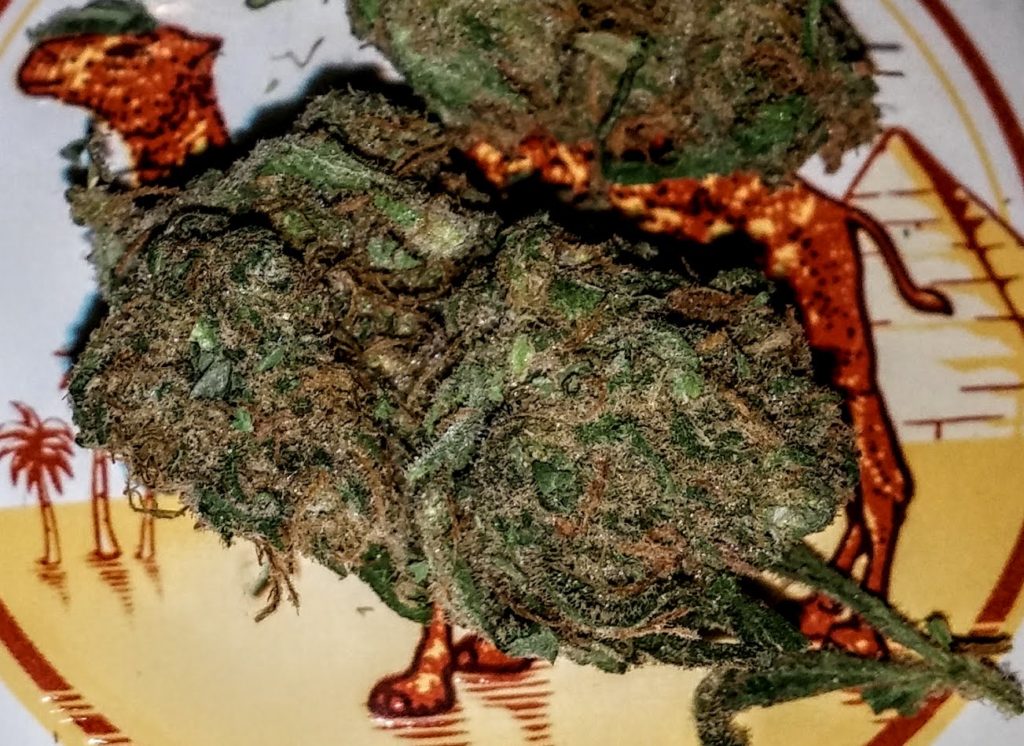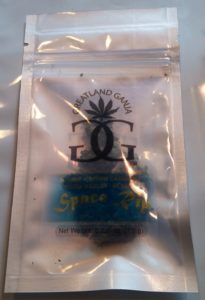 Strain: Space Rip
"Space Rip is a special phenotype of JTR. [Jack the Ripper] It is a space queen dominant throwback, so different from traditional JTR (which we grow and is great) that we gave it a nickname to differentiate it from JTR"
Type: Sativa Dominant

Origin: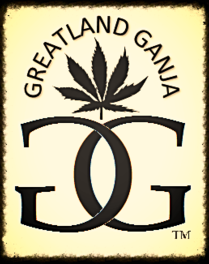 Greatland Ganja from the Kenai through Bad Gramm3r just OUTSIDE of Wasilla. (No tax for you, BAD Wasilla! >:P)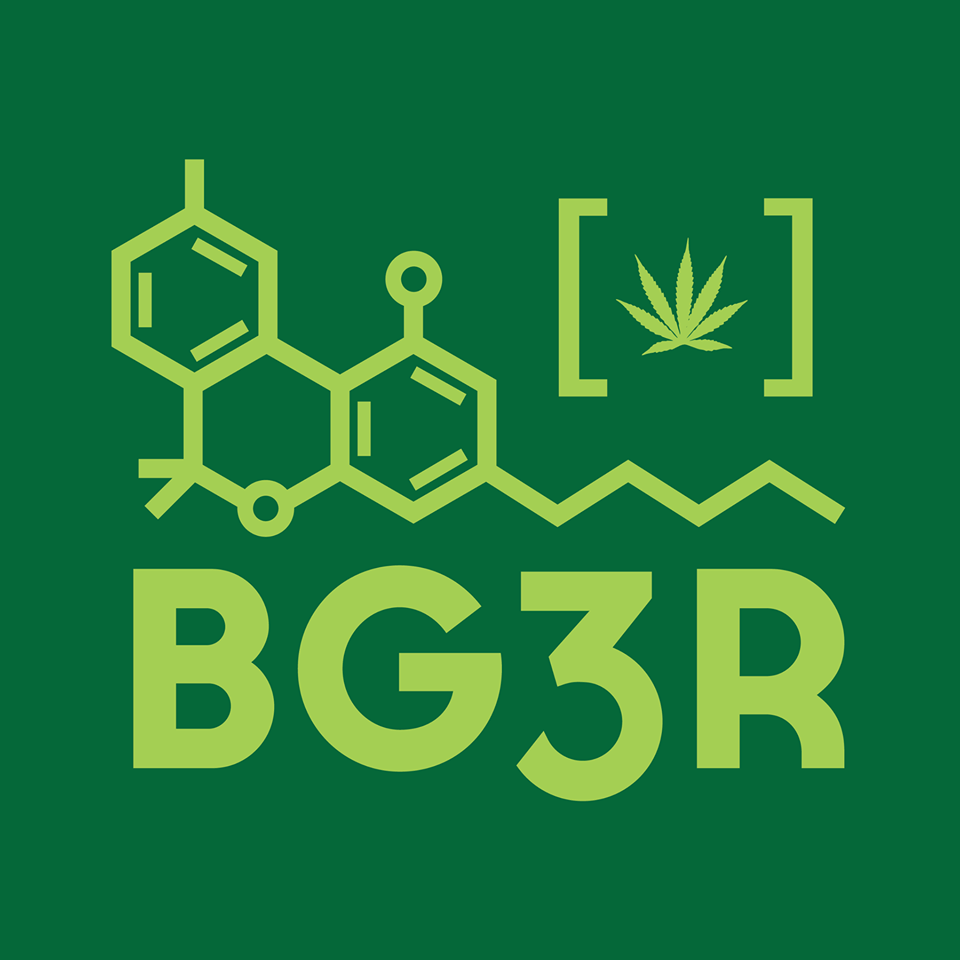 Growing Medium: Hydro

Lighting: "Those ladies basked in the light of T-5s for veg and 1000 watt air cooled HPS for bloom." G⅁

Nutrients: "We used General Hydro for the nutrients" G⅁


Cultivator: "Arthur Abel and our Cultivator Kenny were the primary cultivators. It was grown with love." G⅁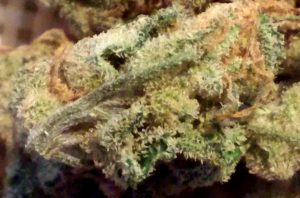 Appearance: Small buds, as to be expected from a hydro Sativa Dom I suppose. Some nice sparkle.

Smell: A citrussy floral, inviting, nothing to worry you over carrying a bag in your pocket. The terpines are not trying to claw their way out of the bag. But they are there, where they belong until you come for them.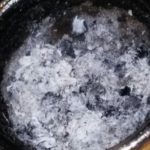 Burn: Nicely, seems to be clean, I'll try and update after I try it in a joint. Bowl burned down to fine, white ash. >

Taste: Very good, sort a flowery affair that plays pleasantly over the taste buds.

Exhale: Earthy…quite different than the inhale, like all that flower power got sidetracked. Some peppery nummy goodness lingers long after the exhale.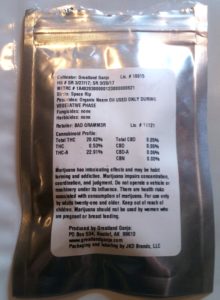 High: Oh, that's where that flower power went! Right there…right now…two hits in and "Uhm I forgot what I was going to say…", "Oh yea, that…uh…what were we talking about?". High, pleased to be here, it's a good place…once I get accustomed to this one it might prove to be an excellent working mans high.

Manicure: Well done, Greatland has been doing very well in the trimming from the few samples I've seen.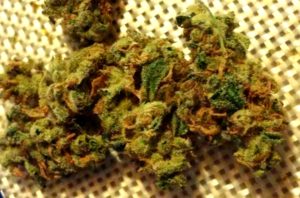 Overall: I was hoping to find a good, uplifiting Sativa with the brightness and clarity that I love about good Sativas and it has it. The taste is very nice, those terpines that hang around mouth for a while reminding me that two hits got me to a good place and I should resist the temptation to go back in…aww, hell, I have to give the exhale another look…as long as I'm doing the Overall I really have to try just one more for the "overall" toke.
22.91% THC-A…Eeaaaaa yea…it works. 20.62 total THC so this should be an excellent vape strain. I'll get back to you on how that worked after I squish and vape a bud.

Strain: Dark Angel

Type: 50% Indica / Sativa – (Cheese X Jack Herer)
Potency: Estimated 15% to 20% THC

Origin: Crop King Seeds

Medium: Soil

Lighting: 1000w HPS

Nutes: Sensei bloom

Grower: Arctic Jester – MatSu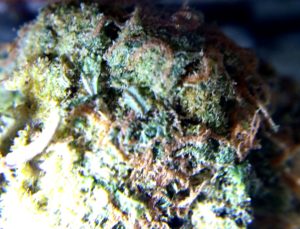 Appearance: Tight bud, nice trichome representation.

Smell: Very nice heavy Limonene, not a skunk but certainly not Hay.

Burn: Clean and even

Taste: Sweet earthy draw, nutmeg aftertaste lingers on the tongue.

Exhale: Wait…what…ohhhh…yea…there it is…a little expansion, some spiciness, a head rush.

High: I can't remember if I had any notable pain a few minutes ago, I'm pretty sure I did but it is all better now. It rolled on fast and seems to reaching a plateau about 4 tokes in. Not couch locked certainly, I might go out and dance in the yard. (An or two later and I'm still sitting here, chair locked.)
"It begins with a spacey happy head rush that leaves you introspective and dreamy, with your mind soaring in vibrant thought. As your mind disappears within itself, your body will fall victim to a relaxing full body stone that leaves you helplessly couch-locked for hours on end. These effects make Dark Angel a patient favorite for treating chronic pain, muscle spasms, spasticity," – allbud.com

Manicure: Very tight hand trim.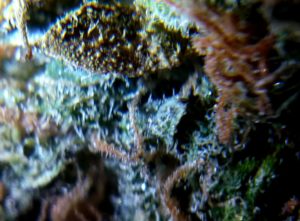 Overall: An upper mid grade to lower Top Shelf, quite nice stone in body and brain, a well balanced strain, but Jack is always a good performer and cheese seems to be a popular performer for crosses.
From Crop King Seeds: "An excellent strain to chill at home or for moderate pain relief while allowing for mind exploration. The leaves will be dark green and minimal, while the nuggets will be compact with THC crystals and aromas of coffee and nutmeg."
About Sour Diesel
Sour Diesel is considered a "Top Cash Crop" by experts. This extra-dank weed breed delivers an energetic, psychedelic high. Also known by the name "Sour D," this world-famous strain has a presence that's really strong and reeks of fuel. You're left ready to tackle your accomplishments, instead of feeling "couch lock," allowing you to have a good time filled with good vibrations.
This sativa-dominant cannabis is mixed with 60% sativa and 40% indica. It's fast-acting and delivers cerebral effects that leave you feeling dreamy and energized. As a medical cannabis strain, it offers some very effective medicinal qualities. Consumers use it to help combat and get long-lasting relief from depression, pain, stress and other ailments.
Sour Diesel seeds grow into tall plants with 20% THC and 0.20% CBD contents. These plants grow best in sunny, warm climates. They are prone to powdery mildew, so experts place their growth level at hard. But, with the right growing techniques, these plants can flourish both indoors and outdoors. This feminized strain of cannabis was named after its aroma, which smells of diesel fuel, and tastes of tropical fruitiness.
Click the image to purchase Sour Diesel
Never Smoke Weed with Willie Again
Type: Sativa Hybrid

Origin: Cali Connection

Medium: Hydro

Lighting: LED

Nutes: CLASSIFIED

Grower: Northern Lights Cannabis Company

Appearance: Tight, sparkly, very dense buds

Smell: Earthy, almost a chocolaty smell, very inviting, can't really find the "skunk" heritage on the sniff test.

Burn: Clean, thick and flavorful inhale.

Taste: Rich, I can feel it coating my tongue, very nice promising flavor that does not disappoint when it gets to the high.

Exhale: Please remember to do that.

High: YES, there is a serious high that starts before you remember to exhale. Very cerebral, a good "Let's get'er done" high. My mind does tend to wander a little (4 days I've been trying to get this review out)  because I keep thinking of better things to be doing at the moment, or see a funny cat meme and end up watching 30 minutes of Darwin Award videos.

Manicure: Tight, no fluff, no scruff, just the good stuff.

Overall: Solid 9, a performer that does not have me waking up with keyboard imprinted in the side of my face. I'm told that after a few years regular users report some jitters and anxiety from this strain that does not happen with NY Diesel so it should be put in a rotation with other strains if your going to become a constant consumer.

I pressed out some rosin to run through my new DipStick, not a real gusher but a decent press out, a second press would bring a little more, and a 3 ton press would really do the trick. Excellent L Limonene dominant terps coming off the pressed and decarbolated rosin/bud.
STRAIN: Ripped Bubba
TYPE: 60% indica-dominant hybrid, resin-heavy Pre-98 Bubba Kush with the flavorful and euphoric sativa Jack the Ripper
ORIGIN: TGA Genetics
MEDIUM: SOIL
NUTES: UNK
GROWER: Chugiak Red(?)
APPEARANCE: Red hairs abound!
SMELL: Earthy with some skunk, enticing
BURN: Light gray ash, clean
TASTE: Very nice, sweet and thick with resiny goodness
EXHALE: Like a fine hashish, expansive
HIGH: Right to business, head high starts on the exhale, nice uplift down the trail
MANICURE: Most excellent, nothing but bud onthis one, red hairs dominate
OVERALL: This one gets a 9, great bud, 9.5 on the trim, 8.5 on the high.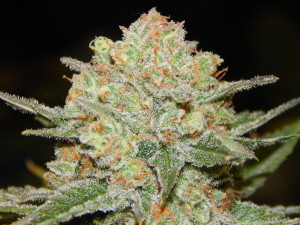 STRAIN: Grape God
TYPE: hybrid
ORIGIN: Grapefruit/God bud
MEDIUM: Soil
LIGHTS: MH/HPS/T-8'S
NUTES: Private reserve, Family recipes
GROWER: GrizzWeed
APPEARANCE: hard, firm and dense
SMELL: Sweet, fruity and yet floral
BURN: Slow and even leaving a light grey to white ash at finish


TASTE: Distinctly sweet and fruity draw almost juicy. A robust flavor
EXHALE: mild light, excellent fruity aftertaste
HIGH: Quick come on with a heady buzz. That allows the user to stay happy and relaxed. Great as a AM or a PM smoke
MANICURE: High and tight but still leaving enough of the sugar leaves to add to the flavor.
OVERALL: An all around great smoke for either getting things done or for just a relaxing evening with friends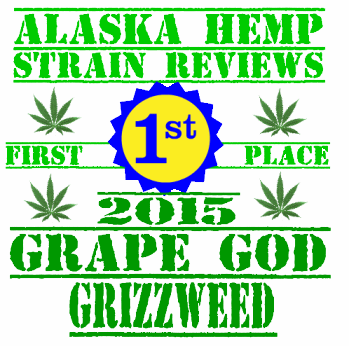 This is one of the top strains to be found in Alaska currently, The potent BC God crossed with the most excellent Grapefruit was a masterstroke and it is delightful to see this out in the hands of great horticulturists like GrizzWeed.
While GrizzWeed is a serious cultivator even in the hands of a novice first time grower I have been amazed at the yield and potency of this one.
http://www.facebook.com/grizzweed/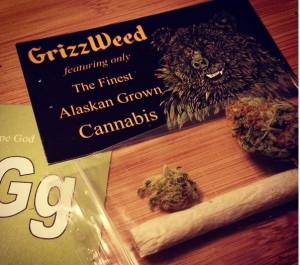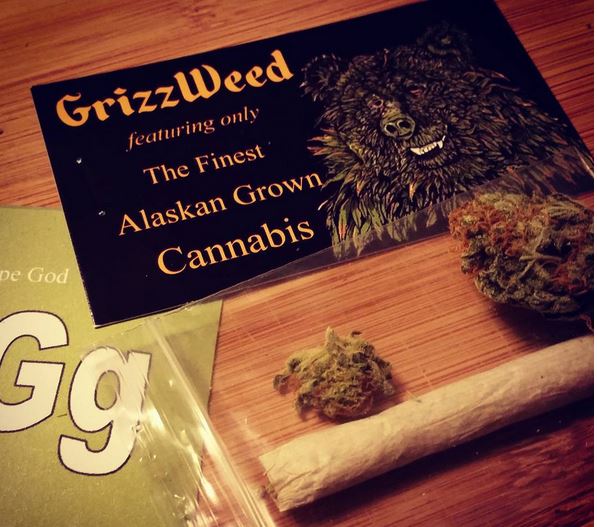 Considering several encounters with this strain over the last year, each being a delightful surprise, and each encounter being with a different grower, I have decided that this is the best overall strain I have seen in 2015.
Never Smoke Weed with Willie Again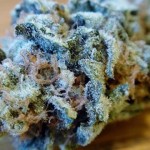 STRAIN: Purple Kush
TYPE: Indica
ORIGIN: Medical Seeds
MEDIUM: Hydro under LED
NUTES: CLASSIFIED
GROWER: NLCC
APPEARANCE: Sparkly and tight, not rocks but certainly not fluffly nugs either.
SMELL: Musty dankness, a good but not bold smell
BURN: Clean
TASTE: As to be expected from a PK, rich and flavorful.
EXHALE: Terpines lingering on the tongue, resiny
HIGH: 4 tokes in and I am suspecting a creeper. 8 Pm and my first toke of the day. Pain subsiding under a slow cresting wave, not a head rusher but a solid body stone and a pleasant head buzz setting in.
MANICURE: Tight , not excessive, just enough guard left to hold trichs.
OVERALL: Quite like the Purple Kush that has been my mainstay for the last decade, solid performer, looking forward to some rosin later tonight, I'll try and remember to post pics. 8.3 Overall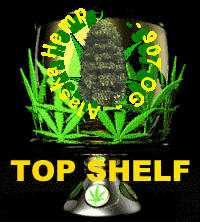 —
Strain Reports on Alaska Hemp (http://alaskahemp.com/420/category/alaska-hemp/strains/)
Strain review: Seriously Happy
3rd prize in the category: 'Sativa / Grower' at the IC-420 Cup 2015 in Amsterdam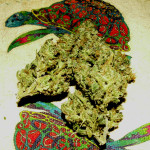 Strain: Seriously Happy
Type: Sativa hybrid, F1-hybrid, Sativa/Indica Hybrid
Origin: Serious Seeds, Warlock x AK47, grown locally from seed
Medium: Hydroponic
Lights: LED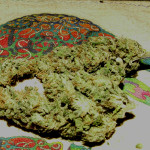 Nutes: CLASSIFIED
Grower: NLCC
8.0 / Appearance: Frost! Any more frost and it would be hard to see the buds under there! Not snowy, but the most frosty thing in my stash box at present. well, no, I just checked the 2nd sample of another strain and it seems to be at least equally frosted (but with an enticing reddish mottling!)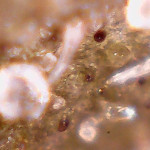 7.0 / Smell: Sweet and fruity, not overpowering, just inviting.
9.0 / Burn: It does.
8.5 / Taste: Ahhhhh…immediately struck by the richness, a smoke I want to hold on my tongue to savor the flavor. Very peppery as I might expect fr4om a good skunk.
7.0 / Exhale: smooth and easy but there is a cough lurking in the background, by the time I exhaled the high was already crawling up my face and peppercorns were dancing in my mouth.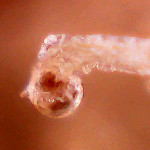 8.7 / High: Immediate satisfaction, usually when something hits me this quick I expect it to taper off quickly…waiting…
9.0 / Manicure: Yea, tight, solid 9, I think the only way to hit 10 here would be for it to be manicured by naked virgins right in front of me.
(8.0)Overall: Yea, like I'm gonna try and do the statistical averaging after burning a bowl of this…I'm happy not to and just say the high seems to be building and by the time I finish editing the pictures and posting this I expect this initial happy might transform into a serious happy which is all I'm really hoping for in a good recreational smoke, but the pain in both brain and body seem to pleasantly retreating. I think this could climb up onto any top shelf and feel right at home.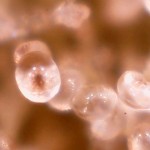 (8.5) After action report: 30 minutes in and the mind high is pleasant, not feeling couch locked, body stone is very nice though. I almost feel like I could remember how to do algebraic calculations, not that I ever would. Only had to correct 3 words on proof reading, I could see this being a daily delight, certainly something to add to the rotation to keep from getting bored.