Archive for the 'Strain Reports' Category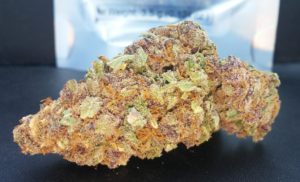 I had to take a friend to Anchorage to get his handlers card and after we visited Alaska Fireweed on 4th Ave.
As I and my friend are both friends with Ron Bass he selected one of his Calm N Collective strains to try.
Silver Buckeye has a very good appearance and delightful aroma when you open the bag, which at $75 for 3.5 grams was the most either of us have EVER paid for Buds, but that is what it is.
We were told by the delightfully attractive bud tender that this was a "Dummy" strain, that after a few hits you would start feeling dumb. OK, what the hell, we had all the important stuff finished so we could afford to get a little stoopid.
We went down by Ship Creek and found a quiet place to park (BECAUSE THERE ARE NO ONSITE CONSUMPTION AREAS!!) and loaded a bowl. Nice purply and sparkly goodness and the first toke was "Mmmm…OK." and then on the second toke we both caught a good cough and decided that three hits was going to be just about right for the first go.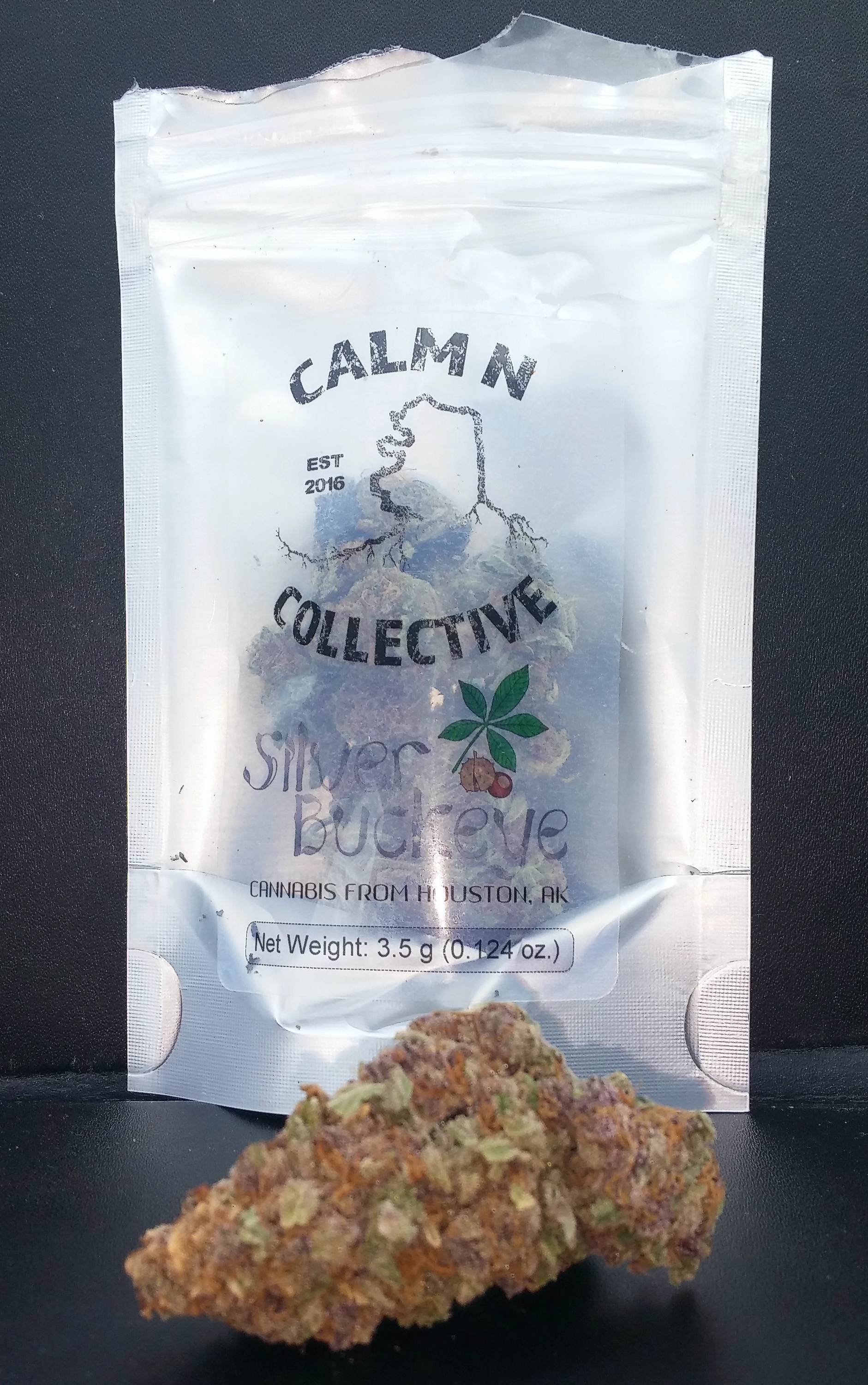 15 minutes later we were both well satisfied with the purchase (me more than him because he shelled out the dough!) and went about some Anchoraugua shopping for an hour or so. Before leaving for the Valley we pulled into a secluded spot that will go un reported (did I mention there is NO PLACE to legally smoke in Alaska other than YOUR HOME?) and finished off the bowl with a small kicker of fresh Silver Buckeye added in. Two good tokes and I was in the zone, a couple more and I would have been out looking for mushrooms in the woods for a while.
A hat tip to Ron Bass and the crew at Calm N Collective for a very nice strain, JDK Brands for good packaging and to Alaska Fireweed for having one of the best shops in Anchorage. We'll be back! (My second time there now)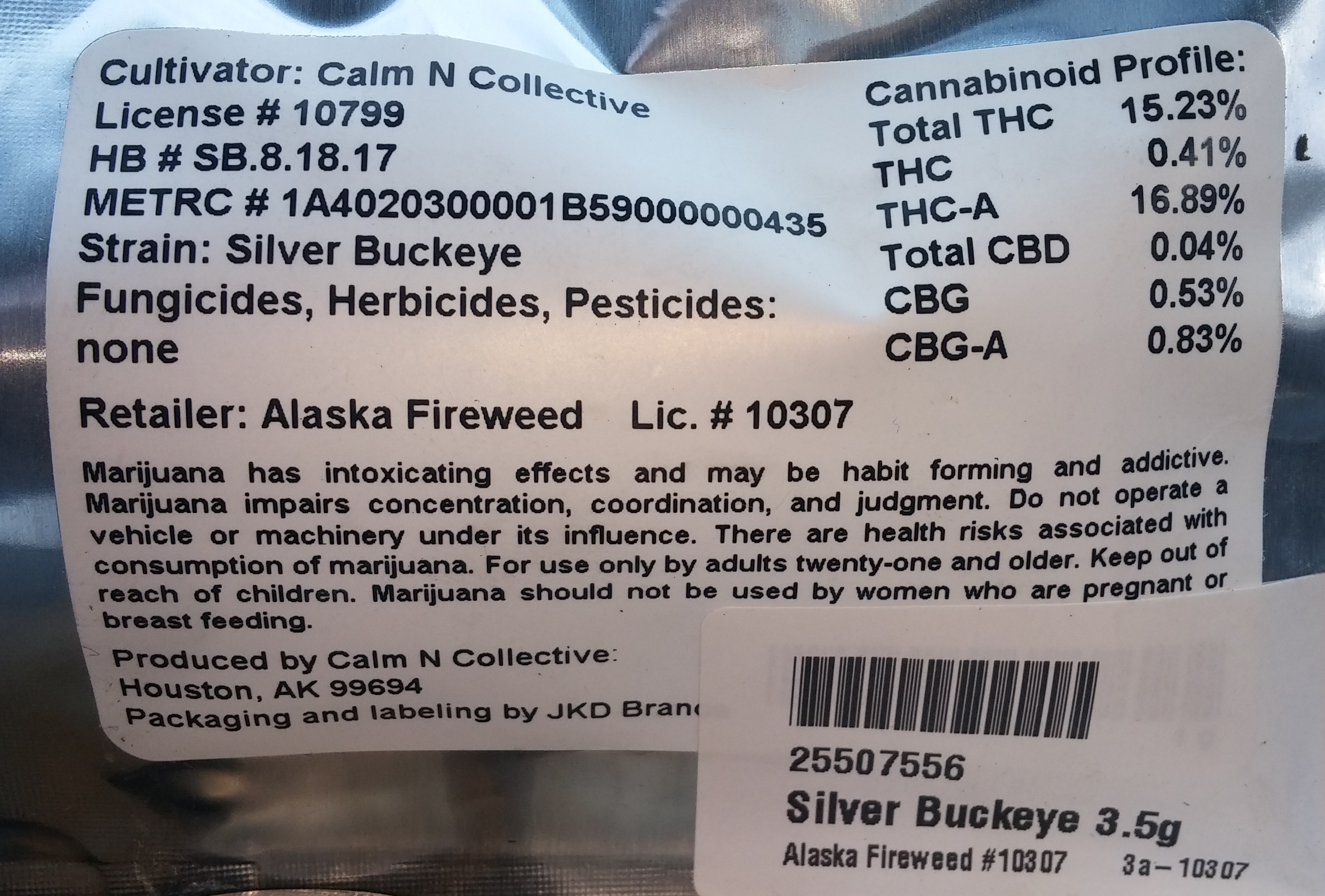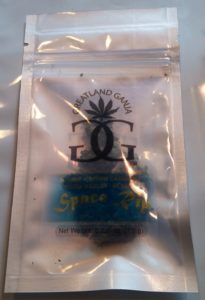 Strain: Space Rip
"Space Rip is a special phenotype of JTR. [Jack the Ripper] It is a space queen dominant throwback, so different from traditional JTR (which we grow and is great) that we gave it a nickname to differentiate it from JTR"
Type: Sativa Dominant

Origin: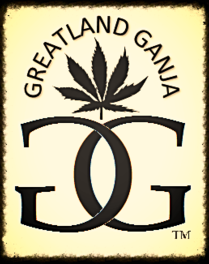 Greatland Ganja from the Kenai through Bad Gramm3r just OUTSIDE of Wasilla. (No tax for you, BAD Wasilla! >:P)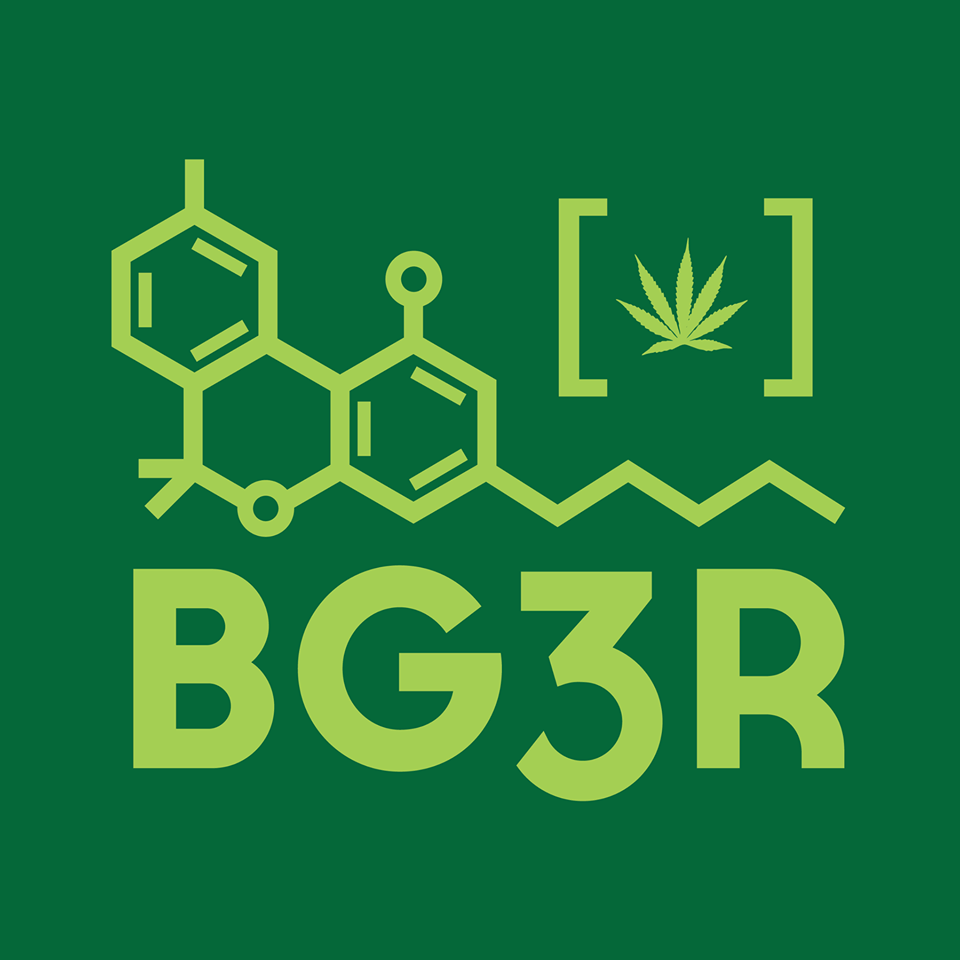 Growing Medium: Hydro

Lighting: "Those ladies basked in the light of T-5s for veg and 1000 watt air cooled HPS for bloom." G⅁

Nutrients: "We used General Hydro for the nutrients" G⅁


Cultivator: "Arthur Abel and our Cultivator Kenny were the primary cultivators. It was grown with love." G⅁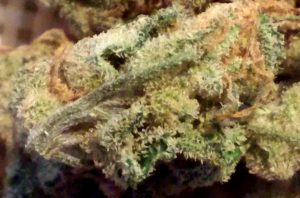 Appearance: Small buds, as to be expected from a hydro Sativa Dom I suppose. Some nice sparkle.

Smell: A citrussy floral, inviting, nothing to worry you over carrying a bag in your pocket. The terpines are not trying to claw their way out of the bag. But they are there, where they belong until you come for them.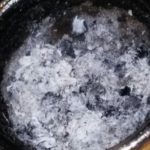 Burn: Nicely, seems to be clean, I'll try and update after I try it in a joint. Bowl burned down to fine, white ash. >

Taste: Very good, sort a flowery affair that plays pleasantly over the taste buds.

Exhale: Earthy…quite different than the inhale, like all that flower power got sidetracked. Some peppery nummy goodness lingers long after the exhale.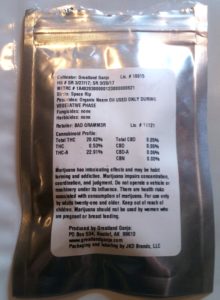 High: Oh, that's where that flower power went! Right there…right now…two hits in and "Uhm I forgot what I was going to say…", "Oh yea, that…uh…what were we talking about?". High, pleased to be here, it's a good place…once I get accustomed to this one it might prove to be an excellent working mans high.

Manicure: Well done, Greatland has been doing very well in the trimming from the few samples I've seen.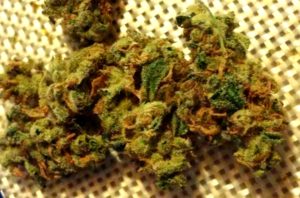 Overall: I was hoping to find a good, uplifiting Sativa with the brightness and clarity that I love about good Sativas and it has it. The taste is very nice, those terpines that hang around mouth for a while reminding me that two hits got me to a good place and I should resist the temptation to go back in…aww, hell, I have to give the exhale another look…as long as I'm doing the Overall I really have to try just one more for the "overall" toke.
22.91% THC-A…Eeaaaaa yea…it works. 20.62 total THC so this should be an excellent vape strain. I'll get back to you on how that worked after I squish and vape a bud.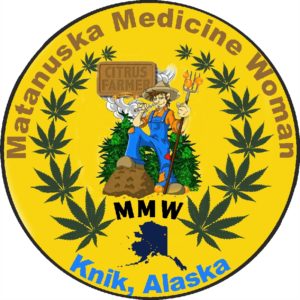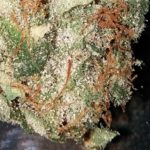 Strain: Citrus Farmer (Skunk Tangerine x Grandpas Breath F2)
Type: Afghani/South Africa roots with Granddaddy Purple (GDP) x OGKB (OG Kush Breath) on one side and Skunk Tangerine indica on the other.
Origin: Dungeon Vault Genetics
Medium: Coco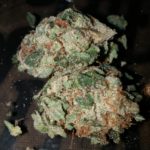 Lighting: HPS phantom lights

Nutes: grown with canna coco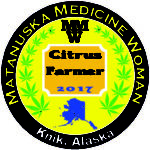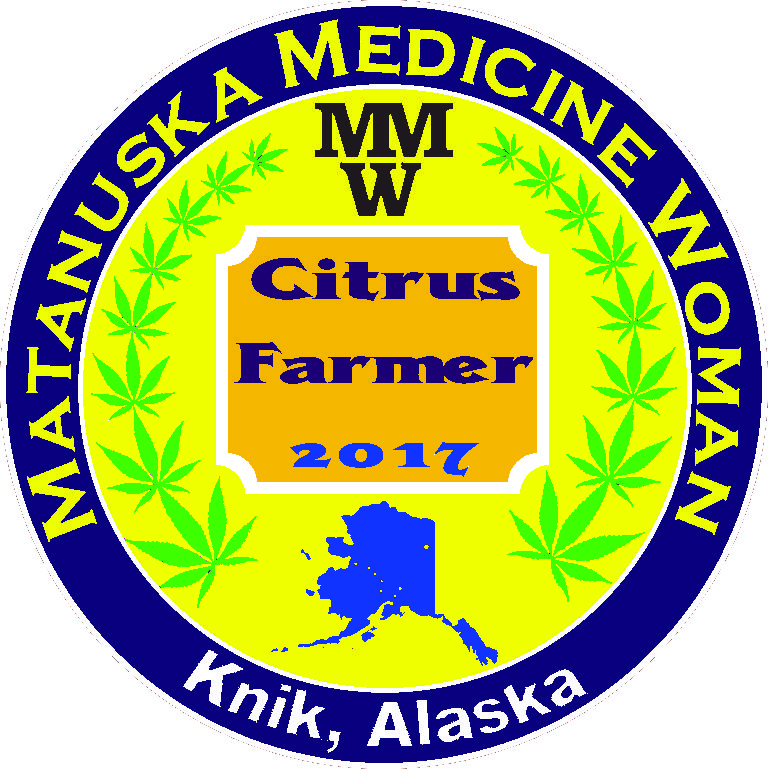 Grower: Matanuska Medicine Woman
Appearance: Tight and sparkly.
Smell: The smell claws it's way out of the bag, pungent citrus diesel smells make themselves quite known. This stuff gives you fair warning of what to expect before you even break open a bud.
Burn: Even, nice light ash. Well flushed.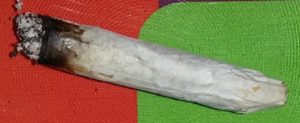 Taste: The smell was a warning, it tastes a lot like it smells. I'm trying to find good things to say about the almost overpowering dank oily shop rag sqeezins mixed with lemonade made from old socks. But it gets better.
E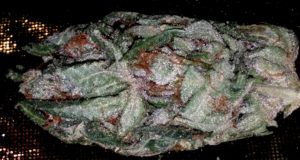 xhale: Something certainly transpires while this stuff lingers in your lungs. Bright citrus with a mild muddy earth…gone is the Diesel, I wonder where to?
High: It seems to approach like a long train, you can just feel it down deep before you can hear it rumbling down the tracks, then you can hear the Diesel engines roaring and pretty soon it's on you, and before you know it your sitting in a box car, along for the ride. Get comfy.

Manicure: Excellently performed.

Overall: I really like this strain for the quality of the high it provides but I need to find a way to suppress some of the Diesel taste on the draw and bring up the Citrus, I'll try squishing a nug and see if that does the trick. There is another strain to be reviewed soon with a worst taste…or perhaps I'm just getting spoiled…this joint has misplaced itself twice before it is 1/2 gone now…bad weed! Well, good weed actually, pretty damn good weed, and even the taste seems to…no…wait, yea, it's still there, dark and low like Texas Radio…crawling up out of the citrus bottoms like a toad croaking out love songs.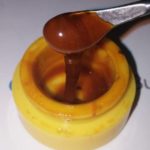 Strain: Sour Diesel Concentrate

Type: Mainly a Sativa – (believed to have descended from Chemdawg 91 and Super Skunk.)
Potency: Estimated 80% to 90% THC

Origin: Art Tic Jester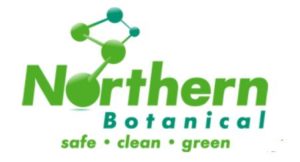 Creator: Northern Botanical
Method: CO2 Critical Extraction
Apeks Supercritical 1L machine, extracted at 1300 lbs, decompressed at 420
Yield is anywhere up to 25% of the dry weight. The system will process up to 1/2 lb at a time.

Grower: Art Tic Jester – MatSu

Appearance: Think Caramel Carrot Soup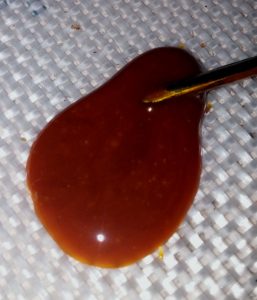 Smell: Bright and citrusy with more then a hint of carrots.

Taste: Excellent, milder than any BHO I've tried.

High: Just a Dab'll do ya. This hits with an immediate impact, right to the brain.
Overall: A really exceptional product and perhaps the best use of trim that I have seen so far. I'm going to get a fresh coil for my dab pen and see how this does. It is a lot more viscus at room temperature then BHO so there will be no laying the dab pen down when it's loaded. I'll be striping a paper and rolling up a nice joint of this and it's parent Sour Diesel for the weekend.

Strain: Sour Diesel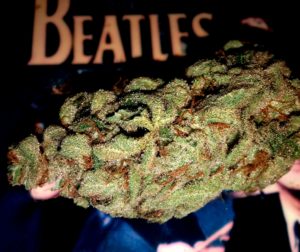 Type: Mainly a Sativa – (believed to have descended from Chemdawg 91 and Super Skunk.)
Potency: Estimated 19% to 22% THC

Origin: Crop King Seeds

Medium: Soil

Lighting: 1000w HPS

Nutes: Sensei bloom

Grower: Art Tic Jester – MatSu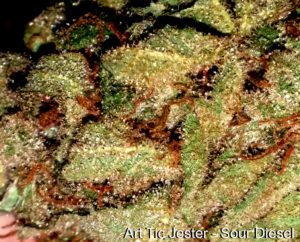 Appearance: Tight bud, very dense trichome representation.

Smell: VERY nice heavy earthy, absolute diesel aroma.

Burn: Clean and even

Taste: Sweet, earthy, you can feel the THC rolling over your tongue.

Exhale: I didn't make it that far on my first good hit. It knocked me the hell out! Sweet and citrus, very flavorful.

High: OK, I'm up! Let's go do something! I want to clean the yard at 3 AM! This strain delivers just about the ideal combination of brain enervation and body stone, great stress reliever which I enjoy just as much as the general pain relief aspects, both of which it has in spades.
Manicure: Very tight hand trim
Overall: This could easily become one of my favorites. Art Tic Jester has really stepped up his grow game with this one and I'm hoping he keeps it in the lineup (and shares some cuts, hint, hint). Certainly not a bed time bud, this is a wake and bake wonder if I ever saw one. I tried a clean pipe hit and decided this needed a joint. I started breaking up the bud and there wasn't any crumbling involved, this was more like reducing a wad of sticky playdough to tiny bits. I'm going to have to try squishing one of these beautiful buds as soon as I can remember where I put my Norelco Rosin Press.
I'm going to give this one 8.5 out of 10 leaves!




Strain: Dark Angel

Type: 50% Indica / Sativa – (Cheese X Jack Herer)
Potency: Estimated 15% to 20% THC

Origin: Crop King Seeds

Medium: Soil

Lighting: 1000w HPS

Nutes: Sensei bloom

Grower: Arctic Jester – MatSu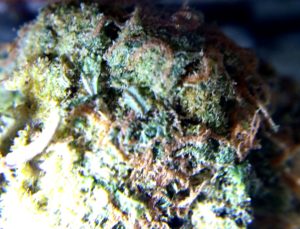 Appearance: Tight bud, nice trichome representation.

Smell: Very nice heavy Limonene, not a skunk but certainly not Hay.

Burn: Clean and even

Taste: Sweet earthy draw, nutmeg aftertaste lingers on the tongue.

Exhale: Wait…what…ohhhh…yea…there it is…a little expansion, some spiciness, a head rush.

High: I can't remember if I had any notable pain a few minutes ago, I'm pretty sure I did but it is all better now. It rolled on fast and seems to reaching a plateau about 4 tokes in. Not couch locked certainly, I might go out and dance in the yard. (An or two later and I'm still sitting here, chair locked.)
"It begins with a spacey happy head rush that leaves you introspective and dreamy, with your mind soaring in vibrant thought. As your mind disappears within itself, your body will fall victim to a relaxing full body stone that leaves you helplessly couch-locked for hours on end. These effects make Dark Angel a patient favorite for treating chronic pain, muscle spasms, spasticity," – allbud.com

Manicure: Very tight hand trim.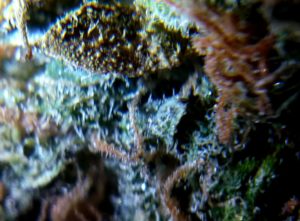 Overall: An upper mid grade to lower Top Shelf, quite nice stone in body and brain, a well balanced strain, but Jack is always a good performer and cheese seems to be a popular performer for crosses.
From Crop King Seeds: "An excellent strain to chill at home or for moderate pain relief while allowing for mind exploration. The leaves will be dark green and minimal, while the nuggets will be compact with THC crystals and aromas of coffee and nutmeg."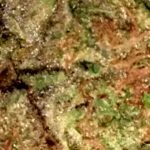 STRAIN: Kenai River Kush AA (Critical Mass X OG Kush)
TYPE: Indica Dominant
ORIGIN: Red Run Cannabis Company (Barney's Farm)
MEDIUM: Coco, growstones and Worm Castings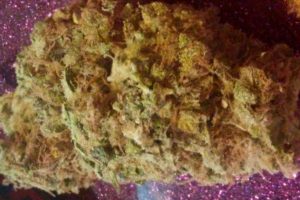 NUTES: Grandpa's Earthworm Castings Fertilizer
Down to Earth – Bat Guano (9-3-1)(0-7-0)(3-15-0)Fertilizer
Down to Earth – Bone Meal  Fertilizer, Langbeinite Fertilizer, Kelp Fertilizer
Glacial Rock Dust & Earth Juice – Micro Blast Amendments
Humic Acid, Epsom Salts, Earth Juice – Cal-Mag, Diatomaceous Earth, Mammoth – Active microbials, Lemons or Limes Amendments
Advanced Nutrients – TechnaFlora PH Down Amendments
Dr. Bonners Castile Soap Pesticide
Monterey – Neem Oil Pesticide
GROWER: Kachemak Walker
APPEARANCE: Wonderful tight bud with quality trim job. Lots of trichomes, borderline frosty.
SMELL: Typical Kush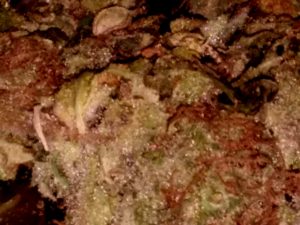 BURN: Clean and pure to white ash.
TASTE: A sweet earthy draw with lingering spicy undertones. I almost detect a hint of chocolate but that could just be the Mocha I'm drinking.
EXHALE: Please, try and remember to do so.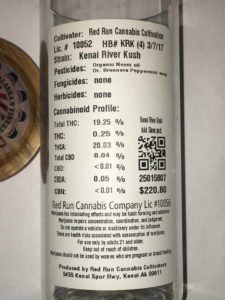 HIGH: Ever been slapped in the head with a Kenai River Salmon? This shit don't fuck around! Try and avoid operating heavy machinery. It took me over a week to get this review done because every time I smoked some my mind wandered off into some other room. Great strain for Couch Surfing or discovering new patterns in the water stains on the ceiling.
MANICURE: Outstanding hand trim.
OVERALL: From Red Run's website: Kenai River Kush is a mostly an Indica strain that blends together two famed cannabis staples, Critical Mass and OG Kush. Aromatic notes of earthiness and spice usher in a calming sensation that relaxes the mind and body. Kenai River Kush pairs a staggeringly high THC content with a moderate dose of CBD, making this strain a perfect nighttime selection.
Availability: https://redruncannabiscompany.com/flowers/kenai-river-kush/
Review by: Stoney Burke, Alaska Hemp
go into the woods and breathe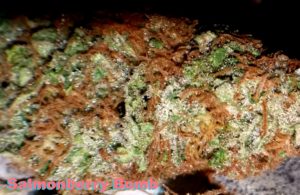 STRAIN: Salmonberry Bomb
TYPE: Indica Dominant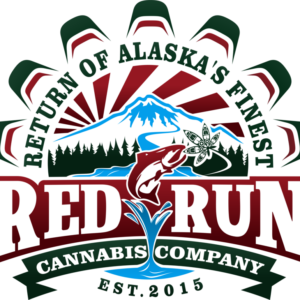 ORIGIN: Red Run Cannabis Cultivators LLC
MEDIUM: Hydro
NUTES: Organic
GROWER: Red Run Cannabis Cultivtors LLC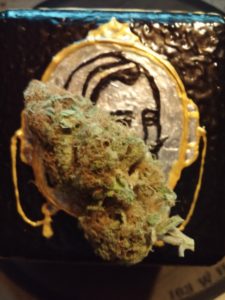 APPEARANCE: Sparkling and redheaded
SMELL: A notable pine/diesel smell, the high pinines give it the slight turpentine aroma.
Pinenes are the primary constituents of turpentine. Pinene has also been used as anti-cancer agent in Traditional Chinese medicine, also for its anti-inflammatory, antiseptic, expectorant and bronchodilator properties.
BURN: Clean white ash
TASTE: Very bright, fruity almost, good flavinoids that linger on the tongue, the pinenes are high, limonene and linolool low so not much spice.
EXHALE: Sort of musky, or is it musty, reminds me of either Columbian or old cabins.
HIGH: right to the head, one hit…(OH, yea, I lit a joint 15 minutes ago, now where the hell did I put that? Oh, I'm still holding it.)
MANICURE: Top quality, tight, buzz(!) cut.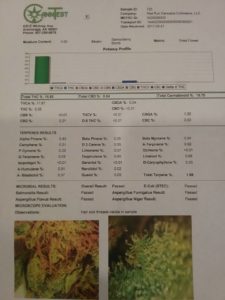 OVERALL: I have to give this a very high rating, nice oder, sweet taste, at under .1% CBD there is not at big dry mouth, (slight correction, an hour in and most of the joint down I'm thinking a cup of coffee would be pretty awesome) 16% THC/THCA total gives a very nice head buzz which seems to be where this likes to live. I have a nice light body buzz after an hour but the head is clean and right where it needs to be.
Red Run
Phone: (907) 283-0800 – info@redruncannabiscompany.com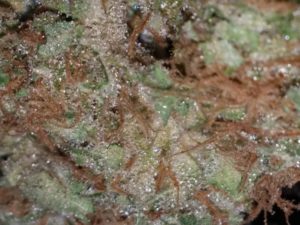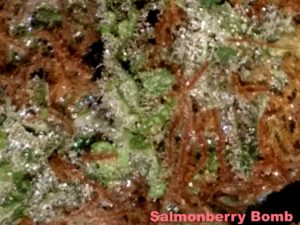 Never Smoke Weed with Willie Again
Type: Sativa Hybrid

Origin: Cali Connection

Medium: Hydro

Lighting: LED

Nutes: CLASSIFIED

Grower: Northern Lights Cannabis Company

Appearance: Tight, sparkly, very dense buds

Smell: Earthy, almost a chocolaty smell, very inviting, can't really find the "skunk" heritage on the sniff test.

Burn: Clean, thick and flavorful inhale.

Taste: Rich, I can feel it coating my tongue, very nice promising flavor that does not disappoint when it gets to the high.

Exhale: Please remember to do that.

High: YES, there is a serious high that starts before you remember to exhale. Very cerebral, a good "Let's get'er done" high. My mind does tend to wander a little (4 days I've been trying to get this review out)  because I keep thinking of better things to be doing at the moment, or see a funny cat meme and end up watching 30 minutes of Darwin Award videos.

Manicure: Tight, no fluff, no scruff, just the good stuff.

Overall: Solid 9, a performer that does not have me waking up with keyboard imprinted in the side of my face. I'm told that after a few years regular users report some jitters and anxiety from this strain that does not happen with NY Diesel so it should be put in a rotation with other strains if your going to become a constant consumer.

I pressed out some rosin to run through my new DipStick, not a real gusher but a decent press out, a second press would bring a little more, and a 3 ton press would really do the trick. Excellent L Limonene dominant terps coming off the pressed and decarbolated rosin/bud.
STRAIN: Ripped Bubba
TYPE: 60% indica-dominant hybrid, resin-heavy Pre-98 Bubba Kush with the flavorful and euphoric sativa Jack the Ripper
ORIGIN: TGA Genetics
MEDIUM: SOIL
NUTES: UNK
GROWER: Chugiak Red(?)
APPEARANCE: Red hairs abound!
SMELL: Earthy with some skunk, enticing
BURN: Light gray ash, clean
TASTE: Very nice, sweet and thick with resiny goodness
EXHALE: Like a fine hashish, expansive
HIGH: Right to business, head high starts on the exhale, nice uplift down the trail
MANICURE: Most excellent, nothing but bud onthis one, red hairs dominate
OVERALL: This one gets a 9, great bud, 9.5 on the trim, 8.5 on the high.