Strain: Sour Diesel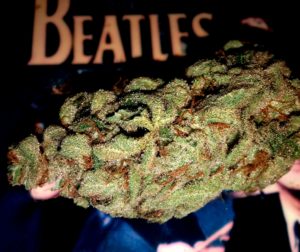 Type: Mainly a Sativa – (believed to have descended from Chemdawg 91 and Super Skunk.)
Potency: Estimated 19% to 22% THC

Origin: Crop King Seeds

Medium: Soil

Lighting: 1000w HPS

Nutes: Sensei bloom

Grower: Art Tic Jester – MatSu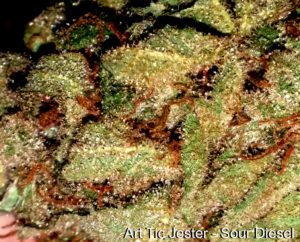 Appearance: Tight bud, very dense trichome representation.

Smell: VERY nice heavy earthy, absolute diesel aroma.

Burn: Clean and even

Taste: Sweet, earthy, you can feel the THC rolling over your tongue.

Exhale: I didn't make it that far on my first good hit. It knocked me the hell out! Sweet and citrus, very flavorful.

High: OK, I'm up! Let's go do something! I want to clean the yard at 3 AM! This strain delivers just about the ideal combination of brain enervation and body stone, great stress reliever which I enjoy just as much as the general pain relief aspects, both of which it has in spades.
Manicure: Very tight hand trim
Overall: This could easily become one of my favorites. Art Tic Jester has really stepped up his grow game with this one and I'm hoping he keeps it in the lineup (and shares some cuts, hint, hint). Certainly not a bed time bud, this is a wake and bake wonder if I ever saw one. I tried a clean pipe hit and decided this needed a joint. I started breaking up the bud and there wasn't any crumbling involved, this was more like reducing a wad of sticky playdough to tiny bits. I'm going to have to try squishing one of these beautiful buds as soon as I can remember where I put my Norelco Rosin Press.
I'm going to give this one 8.5 out of 10 leaves!