Strain: Dark Angel

Type: 50% Indica / Sativa – (Cheese X Jack Herer)
Potency: Estimated 15% to 20% THC

Origin: Crop King Seeds

Medium: Soil

Lighting: 1000w HPS

Nutes: Sensei bloom

Grower: Arctic Jester – MatSu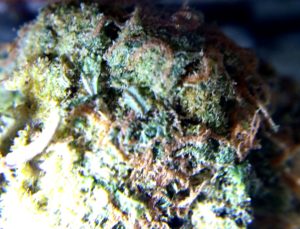 Appearance: Tight bud, nice trichome representation.

Smell: Very nice heavy Limonene, not a skunk but certainly not Hay.

Burn: Clean and even

Taste: Sweet earthy draw, nutmeg aftertaste lingers on the tongue.

Exhale: Wait…what…ohhhh…yea…there it is…a little expansion, some spiciness, a head rush.

High: I can't remember if I had any notable pain a few minutes ago, I'm pretty sure I did but it is all better now. It rolled on fast and seems to reaching a plateau about 4 tokes in. Not couch locked certainly, I might go out and dance in the yard. (An or two later and I'm still sitting here, chair locked.)
"It begins with a spacey happy head rush that leaves you introspective and dreamy, with your mind soaring in vibrant thought. As your mind disappears within itself, your body will fall victim to a relaxing full body stone that leaves you helplessly couch-locked for hours on end. These effects make Dark Angel a patient favorite for treating chronic pain, muscle spasms, spasticity," – allbud.com

Manicure: Very tight hand trim.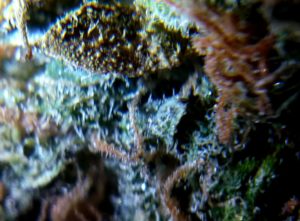 Overall: An upper mid grade to lower Top Shelf, quite nice stone in body and brain, a well balanced strain, but Jack is always a good performer and cheese seems to be a popular performer for crosses.
From Crop King Seeds: "An excellent strain to chill at home or for moderate pain relief while allowing for mind exploration. The leaves will be dark green and minimal, while the nuggets will be compact with THC crystals and aromas of coffee and nutmeg."