go into the woods and breathe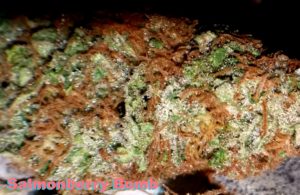 STRAIN: Salmonberry Bomb
TYPE: Indica Dominant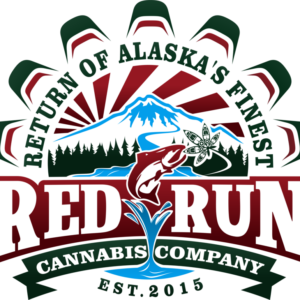 ORIGIN: Red Run Cannabis Cultivators LLC
MEDIUM: Hydro
NUTES: Organic
GROWER: Red Run Cannabis Cultivtors LLC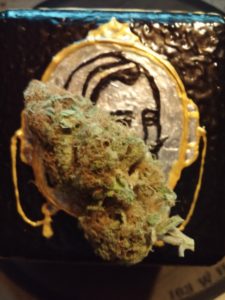 APPEARANCE: Sparkling and redheaded
SMELL: A notable pine/diesel smell, the high pinines give it the slight turpentine aroma.
Pinenes are the primary constituents of turpentine. Pinene has also been used as anti-cancer agent in Traditional Chinese medicine, also for its anti-inflammatory, antiseptic, expectorant and bronchodilator properties.
BURN: Clean white ash
TASTE: Very bright, fruity almost, good flavinoids that linger on the tongue, the pinenes are high, limonene and linolool low so not much spice.
EXHALE: Sort of musky, or is it musty, reminds me of either Columbian or old cabins.
HIGH: right to the head, one hit…(OH, yea, I lit a joint 15 minutes ago, now where the hell did I put that? Oh, I'm still holding it.)
MANICURE: Top quality, tight, buzz(!) cut.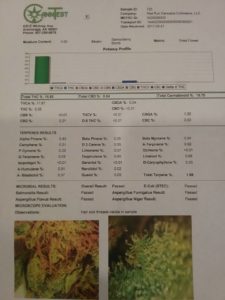 OVERALL: I have to give this a very high rating, nice oder, sweet taste, at under .1% CBD there is not at big dry mouth, (slight correction, an hour in and most of the joint down I'm thinking a cup of coffee would be pretty awesome) 16% THC/THCA total gives a very nice head buzz which seems to be where this likes to live. I have a nice light body buzz after an hour but the head is clean and right where it needs to be.
Red Run
Phone: (907) 283-0800 – info@redruncannabiscompany.com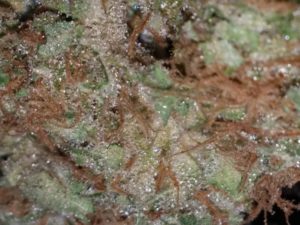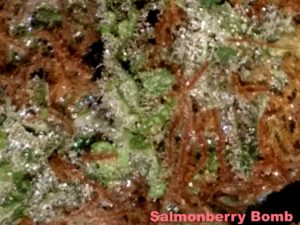 Here are the current Handlers courses as listed by the AMCO. I will update the list as I see changes.
$50 seems to be the low bar thus far and $75 the high bar.
Marijuana Handler permit hours: Tuesdays & Thursdays from 1pm-3pm
Anchorage: 6th floor, 550 West 7th Ave, Suite 601
Fairbanks: 455 3rd Avenue, Suite 140
Call 451-2748 to schedule an appointment
Juneau: 9th Floor of the State Office Building, Conference Room B
Marijuana Handler permit hours: Tuesdays & Thursdays from 1pm-2pm
https://www.commerce.alaska.gov/web/amco/MarijuanaHandlerPermit.aspx
Never Smoke Weed with Willie Again
Type: Sativa Hybrid

Origin: Cali Connection

Medium: Hydro

Lighting: LED

Nutes: CLASSIFIED

Grower: Northern Lights Cannabis Company

Appearance: Tight, sparkly, very dense buds

Smell: Earthy, almost a chocolaty smell, very inviting, can't really find the "skunk" heritage on the sniff test.

Burn: Clean, thick and flavorful inhale.

Taste: Rich, I can feel it coating my tongue, very nice promising flavor that does not disappoint when it gets to the high.

Exhale: Please remember to do that.

High: YES, there is a serious high that starts before you remember to exhale. Very cerebral, a good "Let's get'er done" high. My mind does tend to wander a little (4 days I've been trying to get this review out)  because I keep thinking of better things to be doing at the moment, or see a funny cat meme and end up watching 30 minutes of Darwin Award videos.

Manicure: Tight, no fluff, no scruff, just the good stuff.

Overall: Solid 9, a performer that does not have me waking up with keyboard imprinted in the side of my face. I'm told that after a few years regular users report some jitters and anxiety from this strain that does not happen with NY Diesel so it should be put in a rotation with other strains if your going to become a constant consumer.

I pressed out some rosin to run through my new DipStick, not a real gusher but a decent press out, a second press would bring a little more, and a 3 ton press would really do the trick. Excellent L Limonene dominant terps coming off the pressed and decarbolated rosin/bud.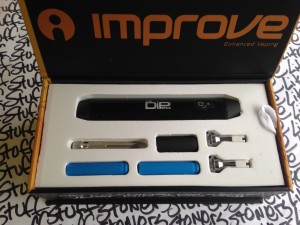 I was presented with a DipStick today by my friend Zeke Hilsinger (he has the entire NW Exclusive on the DipStick!) and this is my review and a few links to video reviews by others and where you can get a free ticket to the Anchorage DipStick rollout party!
I love Dabs, Rosin, Crumble…concentrates are awesome for a lot of reasons, purity, ease, compact, easy to dial in a high, great for precise dosing at optimal temps etc, etc.
So on to the DipStick. Very nice maglatch box that can be reused as a stash box. (who doesn't like cool boxes?). Inside you will find the main pen, two ceramic tips, two batteries with charger, two dab jars, spare tube seals a lanyard and instructions.
The DipStick is a quality tool made in the USA. I usually try not to say good things about anything coming out of Texas except Willie Nelson but this is one of those rare exceptions. A "Sleek Design : A solid aluminum body" with a nice ergonomic feel, a magnetic cap, rebuildable coil and easy to clean parts.
One of the most excellent features is an overflow reclaim chamber on the tip. In there you will find dab that might have run down the coil before vaporizing so it's not the toxic sludge you might find in other vape pen catch basins.
With a suggested retail of $199 you would expect this to be a high quality instrument and that is exactly what it seems to be. I suspect you might be able to talk Zeke into a roll out discount if you can make it to the Party. There will be "FREE DABS and Medicated Sweets" and hopefully I'll be there providing product demonstrations.
You can hook up with FREE TICKETS by rushing over to TicketLeap. This will be held at a private home so space will be limited!
http://nwddp.ticketleap.com/nwddp-alaska-dipstick-release-…/
I'm gonna go check my oil now…l8rs.
Oh yea…Being the ever curious sort and wondering about the true versatility of this pen I loaded a chunk of crumble into the coil and replaced the cap then turned it on and hit the heat. A great toke without removing the cap, how freaking easy is that? Oh yea, it turns itself off if you leave it laying around and forget about it while your looking for the dab container lid you dropped under the desk or drop it back in your pocket after a quick hit at the concert or DMV. (Uh, yea…Alaska Hemp does not recommend or advise vaping at the DMV or any other public space, keep it legal Eagles.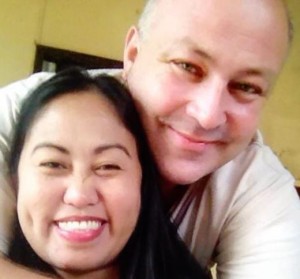 Andy Straley is offering free consultations on Cannabis related legal cases.
" I was in an industrial accident 1998 broke my neck and back and after that the Dr placed me on narcotics for pain management. I started using medical marijuana for chronic pain."
Andy has been involved in over 300 criminal cases and has years of undercover experience as a police officer. He attended the Alaska State Trooper Academy in Sitka in 1990, Reed School of Interview and Interrogation and the FBI Sniper School in 1994 at Quantico, VA. He is a licensed investigator in Alaska.

Oh yea, and then 07/11/2008 there was this…"AS1171040a2 AS11.71.040(a)(2): MICS 4-Deliv/Poss w/Intent Over 1 OZ VIA"

"In 2008 I was arrested for sending 2 oz of medical marijuana to a Medical Marijuana card holder, my brother in law. I did 27 days of a 20 day jail sentence, a class a misdemeanor. My rights were violated, DNA was collected for codus, I spent 7 days over due to time and accounting error and did all time as a felon not a misdemeanor and in the hole, solitary."
Andy seems to passionate about defending Alaskans from over reaching law enforcement.

907-744-5572 is Andy's Alaska cell.
You can find Andy on Facebook at #astraleyIII
Andy will be in Girdwood April 29 – May 1 then out to Bristol Bay Until October.
Stoney Burke, Alaska Hemp
STRAIN: Ripped Bubba
TYPE: 60% indica-dominant hybrid, resin-heavy Pre-98 Bubba Kush with the flavorful and euphoric sativa Jack the Ripper
ORIGIN: TGA Genetics
MEDIUM: SOIL
NUTES: UNK
GROWER: Chugiak Red(?)
APPEARANCE: Red hairs abound!
SMELL: Earthy with some skunk, enticing
BURN: Light gray ash, clean
TASTE: Very nice, sweet and thick with resiny goodness
EXHALE: Like a fine hashish, expansive
HIGH: Right to business, head high starts on the exhale, nice uplift down the trail
MANICURE: Most excellent, nothing but bud onthis one, red hairs dominate
OVERALL: This one gets a 9, great bud, 9.5 on the trim, 8.5 on the high.
In a unanimous vote the City Council of Wasilla, in spite of public testimony running over 2 to 1 in opposition, approved the banning of cultivation, retail sales and testing within the City limits. The City that potentially stood to make the most from Alaska's legendary Matanuska Thunderfuck and the other legendary cannabis strains grown here has opted out, eliminating any and all cannabis other than private dwellings growing their 6 plants and smoking them in the privacy of their own homes.
Councilman David Wilson, Council Seat A, presented the only reasonable excuse for voting to ban commercial grows with his logic that the City would then be presented with having to try and deal with Federally sanctioned "drug money" that they could not legally deposit or spend.
With an attendance that made me question the legal capacity of the Council chambers over 4 hours of spirited public testimony was led on the Pro Ban side by the Church group that showed up with horror stories of how legal, tested and taxed cannabis would destroy the children. Many made claims about friends or family who had their lives ruined after they used Pot and then got addicted to Meth or some other drug (the stupid truly burned brightly). The Anti Ban side was mainly led by Combat Veterans, elderly business persons, young hopeful entrepreneurs and people concerned with safe and legal access to medical cannabis. All of their reasoned and logical pleas fell on deaf ears it would seem as the council quickly moved to the vote and returned a unanimous "fuck you" to the cannabis industry.
Never Smoke Weed with Willie Again

Strain: Moose Nugget
Type: Assorted
Origin: The bottom of a stash box
Medium: Rare
Lighting: 28″ LCD Monitor
Nutes: Hormel Chile with Rice and Chedder Cheese
Grower: Nothing growing on it that I could see.
Appearance: Greenish, lots of kief, a few little bits of shatter and something that looks like a freeze dried raisin.
Smell: Sort of like a cat pissed in an old jock strap.
Burn: rather like a coal furnace
Taste: Earthy, flowery, lemony, cat pissy, grapefruit and blueberry with a hint of chocolate.
Exhale: More like an explosive aspiration than an exhale, this stuff is not the atmosphere of your home planet!
High: I waved as I passed the ISS…
Manicure: Yea, I could use one, and a pedicure too.
Overall: Imagine that over the last 6 Months you have dropped some of the best weed in Alaska in one box, loading bowls, ripping dabs and rolling joints out of it until there is a deep layer of mostly trichomes and flakes of shatter and then roll that into a fat joint and try and write about it 1/2 way through…ooo…there's a chip of lemon wax…I remember that!